A year and a half ago, Sherry Hopkins joined Urban Adventures as the sole operator of Cincinnati Urban Adventures. In addition to running her own tour business, Sherry also manages an AirBnB in Covington, Kentucky, organises a Travel Spirit Meetup group in her town, runs her own photography company and shoots for a local news channel's online magazine.
But her career path to tourism and photography wasn't a straight one. Back in the 1970s, Sherry lived a different life. Raised in a lower-middle class family, she joined the military right after high school to fund her college tuition. She was posted in Europe, where she served as a legal clerk (JAG) in Germany right after the Vietnam War. There, she wrote up Article 15s for court martials — punishment proceedings that saw service members demoted in rank, and pay taken away. Her four years in the military initially saw her stationed in Frankfurt and Weisbaden, Germany, and later back on home soil in Louisiana, USA. Joining the military also marked her first time flying in an airplane, at the age of 18.
Ask Sherry about her time in Europe and she might share memories of dancing in a Frankfurt nightclub with a boa constrictor around her neck; taking her first solo bus ride from Frankfurt to Spain; driving along the Autobahn with its open speed limit; relaxing in local schwimmbads with her girlfriends; visiting friends in Italy when passports were just papers and you could still clear immigration without them, because the world was a different place back then. It's the little things she remembers most, like almost getting run over by a strassenbahn as it came barrelling towards her when she didn't see the tracks. Or feeling a sense of excitement that things were SO different in Europe than back at home.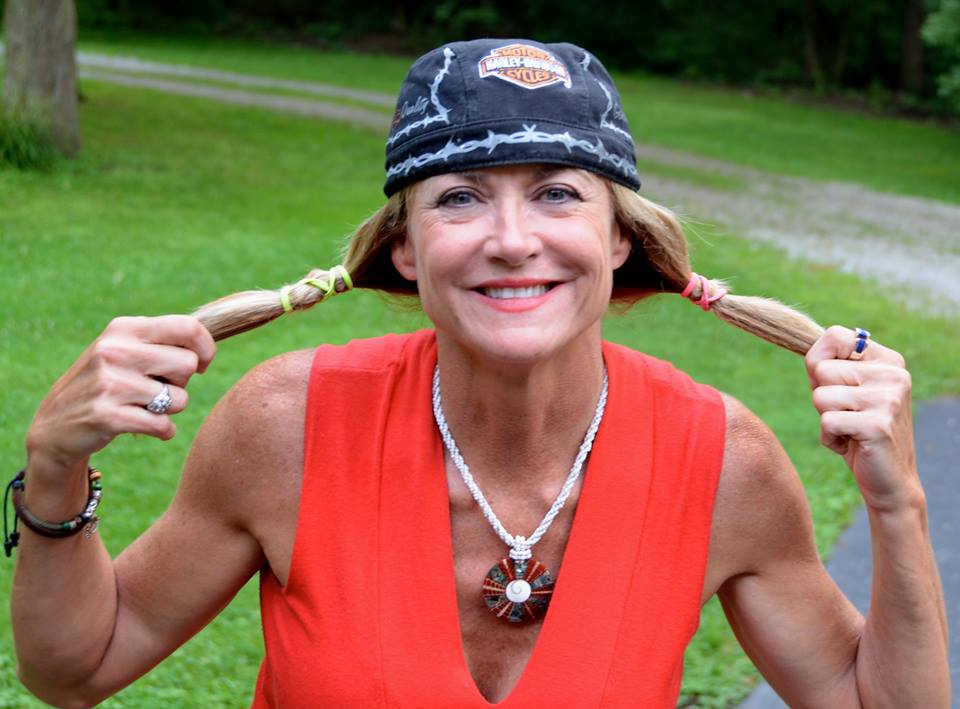 I ask her if she learned to speak the local language, to which she replies 'ein bisschen' (a little bit). She says she learned the important phrases such as 'ein bier bitte' (one beer please), 'wo ist die toilette' (where is the toilet) and, of course, 'Ich liebe dich' (I love you).
Although she had the option to live on-base in Frankfurt, she chose to rent an apartment in the suburbs with her first boyfriend, who was also in the military and hailing from Utah. She fondly recalls how he had shipped a yellow mustang from the USA to Germany in which he had an ahooga horn installed that would either entertain or infuriate the neighbours.
In Weisbaden she lived with a family on a hill in the snowy Fluda Mountains. They spoke no English and she no German yet they would get together over tea and fruit and converse, aided only by their language dictionaries and their smiles. She remembers one day the father pushing her little blue broken-down Fiat up the hill.
She says her father always told her she was an individual — and adds, with a cheeky smile, that she was a little bit of a rebel. And so, with her standard military-issued fatigues, she would defy orders in tiny ways. Like by carrying a dark blue purse instead of a black one, or wearing tiny earrings that no one could see, and leaving one shirt button unbuttoned. It was the little things like this in which she felt she could retain a sense of identity in such a regimented environment.
By the time Sherry was 21 she had visited six countries in Europe, and her passion for travel was ignited. But upon her return to the US, Sherry spent almost 30 years in the corporate world — eight of which were dedicated to studying, and she received her college degree just one week after the birth of her son. And after those 30 years of working and raising her son, she took a few years to find herself through travelling. "I know it's a cliche," she says.
She points to her favourite quote, by Maya Angelou, as something that pushed her along: "You can't really know where you are going until you know where you have been". Since then, she has travelled to over 60 countries throughout Africa, South America, Southeast Asia and the Middle East.
Today, Sherry seems to know both where she's been and where she's going. Her days are no longer spent hiding her rebellious nature from officers or working behind a desk. Instead, she is designing tours, recruiting guides and showing travellers some of the things in Cincinnati she holds close to her heart — sites such as the ArtWorks murals in Over-The-Rhine, where brick walls have been turned into public artworks by local youth apprentices.
Sherry says that she was at first apprehensive about running a tourism business — with a fear of public speaking being her biggest hurdle. But she also knew she was up for the challenge. "I believe we need to face our fears to become better versions of ourselves," she says.
She also realised there was an untapped tour market waiting for her to scoop up. "I realised there wasn't a tour of the highlights of Cincinnati and that's what gave me the confidence to start the business." Her first and most popular tour was The Nati in a Nutshell, which begins at one of the nation's oldest markets (dating back to 1852) and hits the major highlights along the way down to the river.
With so much energy and motivation, it's no surprise that Sherry took over 1,000 travellers on tour in just her first year of operations. And as for that fear she had about opening her own business in the first place? She says, "When I have anxiety due to the responsibility of being a business owner, I try to focus on one of The Four Agreements, a book by Don Miguel Ruiz: 'Always do your best' and remembering so long as I'm doing that, I can do no better, and when having a bad day or moment, reminding myself, 'This too shall pass.'"