Private Berlin Tour: Food & Art in Funky Kreuzberg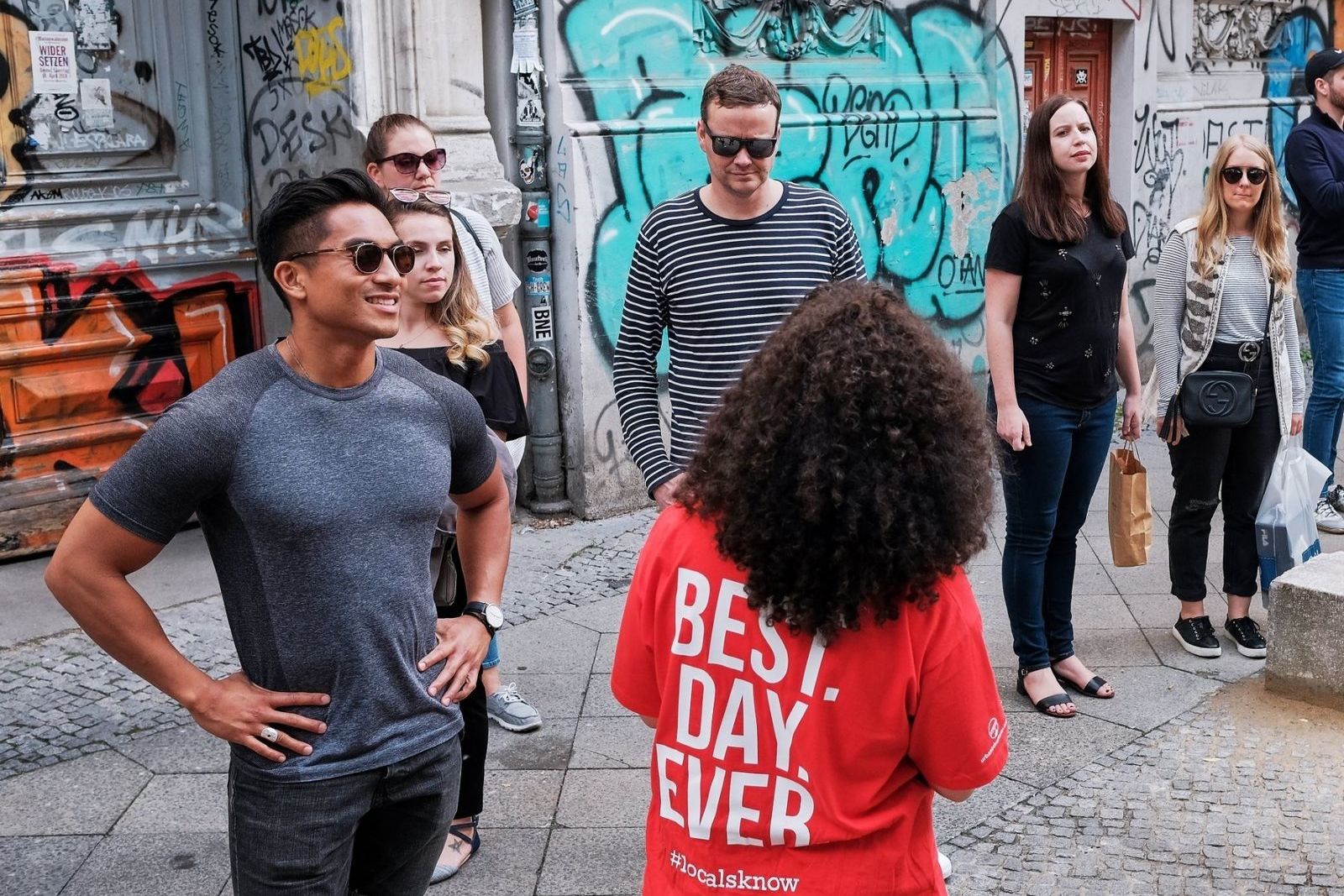 TOUR DESCRIPTION
The unofficial kingdom of cool, Berlin is Germany's epicentre of trendsetting. This tour combines two of Berlin´s best things - art and food! There's no better place for a union like this than the creative enclave of Kreuzberg.  

Highlights


Enjoy Berlin's multicultural food scene and let us show you our all-time favourite snacks and drinks


Eat and drink where locals dine day and night


Stroll through a typical Berlin kiez (neighbourhood) with its many green spaces, cafes, and grocery stores


Discover famous pieces and hidden gems of Kreuzbergian street art


Hear stories about Kreuzberg's wild past and present


Local English-speaking guide
Food samples
Local drink
Please note: food options and portion sizes will vary depending on the season and where we stop that day but the total amount of food included will be equal to a full meal.
Additional food and drinks
Gratuities for your local guide
Important Information
What is included in the tour?
Local English-speaking guide, food samples, and local drink. Please note: food options and portion sizes will vary depending on the season and where we stop that day but the total amount of food included will be equal to a full meal.
What isn't included in the tour?
Additional food and drinks, gratuities for your local guide
Where do we meet?
The corner of May-Ayim-Ufer and Oberbaum Brücke, in front of the historical placard. The nearest tube station is Ubahnhof Schlesisches
Where does the tour end?
Markthalle Neun, Eisenbahnstrasse 42, 10997 Berlin. Near metro station Görlitzer Bahnhof
What is the duration of the tour?
What is the minimum group size for this private tour?
This private tour is priced for a minimum group size of three travellers. A solo traveller may still book this private experience but will be charged the base rate for three travellers.
Are there any Covid-19 vaccination requirements?
While we strongly recommend that all travellers are vaccinated against COVID-19 to reduce the risk of transmission and avoid putting undue strain on healthcare services, vaccinations are not a requirement to join an Intrepid Urban Adventures tour. For further information, please review COVID-19 Health & Safety at https://www.urbanadventures.com/en/about-us/covid-19-customer-info
Can I cancel my tour?
Free cancellation up to 24 hours before activity
What if I can't find my guide?
If you have any issues on the day of your tour, please call +49 30 26105 715
MORE INFORMATION
Get ready for a taste sensation! On this exciting food tour you're going to be tasting everything from traditional classics to modern multicultural fare –whilst soaking up the atmosphere of one of the most diverse and lively neighbourhoods in Berlin. To work up an appetite we'll admire the panoramic view of Berlin's skyline from the famous Oberbaum Bridge. With some of the last leftovers of the Berlin Wall in sight, you'll hear stories about the quirky annual "Water and Vegetable Battle" before entering the buzzing streets of Kreuzberg. As you walk, you'll see where Old Berlin traditions meet new influences, discover what a "Späti" is and why Berliners love them so much and uncover the tasty hidden gems of the area! In our opinion, there's only one way to start a Berlin food tour: we'll invite you to try our all- time favourite: The Currywurst (we think it's one of the best in Berlin) at an authentic little spot before wandering through the charming streets of the Wrangelkiez, full of character, with little shops, cafes and grocery stores. You'll go on a sensory exploration; from discovering one of Berlin's oldest fish shops to the exotic tastes of a traditional Turkish sweet shop and one of the finest kebaps you've ever tasted. Delight in a unique sampling of locally brewed beer from one of Berlin's first craft beer bars and dive with us into the wonders of Markthalle Neun. Built in the 1890s, to ensure that Berliners had access to fresh produce, this beautiful market hall has evolved to be at the heart of Berlin's street food scene and appeals to Berliners for its array of exquisite delicacies on offer from far and wide…prepare to be amazed- you won't want to leave! Kreuzberg is the creative nucleus of Berlin's street art scene. Throughout the food tour we'll pass by countless murals, tags, and bombings, including some pieces by world-famous artists. Admire Blu's Leviathan or the wicked Animals of ROA, or just discover your own personal favourite among the many anonymous pieces.  Discover what it is that makes this area so unique and learn how the neighbourhood has changed in the past decades. One thing is for certain: Between mosques and record shops, whole food stores and currywurst stands, artists and students, Kreuzberg is the place to breathe in some real Berlin air! On your food tour you'll discover Berlin's multicultural mix, explore an exciting arts scene, hear stories of change and inspiration and sample some unforgettable food. Whatever the weather or day of the week, we'll show you our favourite spots, then all that's left is for you to decide where you want to indulge and how much you want to treat yourself! For those who want to dive into Berlin's nightlife afterwards, you're in the right area! Our guide will have no problem pointing you in the right direction to continue your epic time in Berlin.
We reserve the right to change both the route and places visited within the tour. Food inclusions are subject to change, dependent on availability on the day.