Private Cairo: Saqqara and Memphis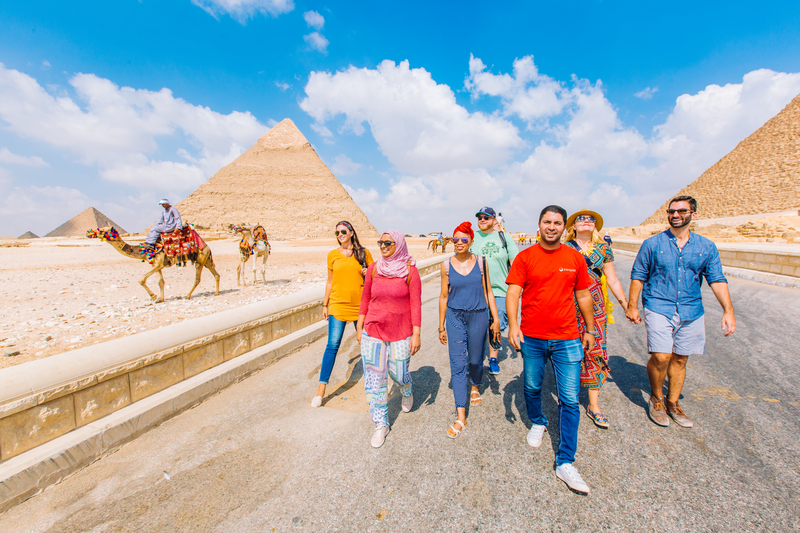 TOUR DESCRIPTION
Saqqara and Memphis have a lot going for them: fewer tourists, less traffic, and some pretty impressive credentials. Join this private Cairo tour to see the oldest stone pyramid in the world and the ancient capital of Lower Egypt.
Highlights


Explore the legendary pyramids of Saqqara, including the famous Step Pyramid


Immerse yourself in ridiculously ancient history with a visit to Memphis, the ancient capital of Lower Egypt and the Old Kingdom of Egypt


Engage with your local guide to get a unique insight into Egypt's history and customs.


Local English-speaking guide
Entrance fees to Saqqara and Memphis
Transportation
Food and drink
Tips/gratuities for your guide
Important Information
What is included in the tour?
Local English-speaking guide, entrance fees to Saqqara and Memphis, transportation
What isn't included in the tour?
Food and drink, tips/gratuities for your guide
Where do we meet?
Pharaohs Hotel, 12 Lotfy Hassouna, St, Dokki, Giza Governorate
Where does the tour end?
Pharaohs Hotel, 12 Lotfy Hassouna, St, Dokki, Giza Governorate
What is the duration of the tour?
What is the minimum group size for the private tour?
This private tour is priced for a minimum group size of two travellers. A solo traveller may still book this private experience but will be charged the base rate for two travellers.
Are there any Covid-19 vaccination requirements?
While we strongly recommend that all travellers are vaccinated against COVID-19 to reduce the risk of transmission and avoid putting undue strain on healthcare services, vaccinations are not a requirement to join an Intrepid Urban Adventures tour. For further information, please review COVID-19 Health & Safety at https://www.urbanadventures.com/en/about-us/covid-19-customer-info
What if I can't find my guide?
If you have any issues on the day of your tour, please call +20 109 799 9534.
Can I cancel my tour?
Free cancellation up to 24 hours before activity
MORE INFORMATION
Time for a time warp and some sweet pyramids. Ready?! Located approximately 30 km south of modern-day Cairo, Saqqara is a vast, ancient burial ground in Egypt with the world's oldest standing step pyramid. It's the first stop on our private day tour from Cairo, and certainly is an impressive way to start the day. Designed by Imhotep for King Djoser (c.2667-2648 BC), the Step Pyramid is the oldest complete stone-hewn building complex known in history and is surrounded by other small pyramids dating back to the 5th and 6th Dynasties. Although Saqqara was eclipsed as the burial ground of royalty by Giza and the Valley of the Kings in Thebes (near Luxor), it remained an important complex for burials and cult ceremonies for more than 3,000 years. Next up, we're off to Memphis, which functioned as the ancient capital of Lower Egypt and of the Old Kingdom of Egypt from its foundation until around 2200 BC. The modern towns of Dahshur and Saqqara lie within the administrative borders of historical Memphis. Wander around, explore, and immerse yourself in the atmosphere of some really, really old cities. Careful not to stand in place for too long - you might mummify! Just kidding. Shake off the dust of the past, bid farewell to these decidedly less touristy pyramids, and conclude your private Cairo pyramids tour by heading back to the big, modern city. It'll be a stark contrast to Saqqara and Memphis, but we're pretty sure you can handle it. Following recent safety incidents, we recommend that you check your government's advice for their latest information on travelling in Egypt before your departure and ensure that your travel insurance covers you for all areas of your itinerary. We have links to prominent government travel advisories and regular updates on issues affecting this trip on our Travel Alerts page - www.intrepidtravel.com/au/travel-alerts.