Chicago Food Experience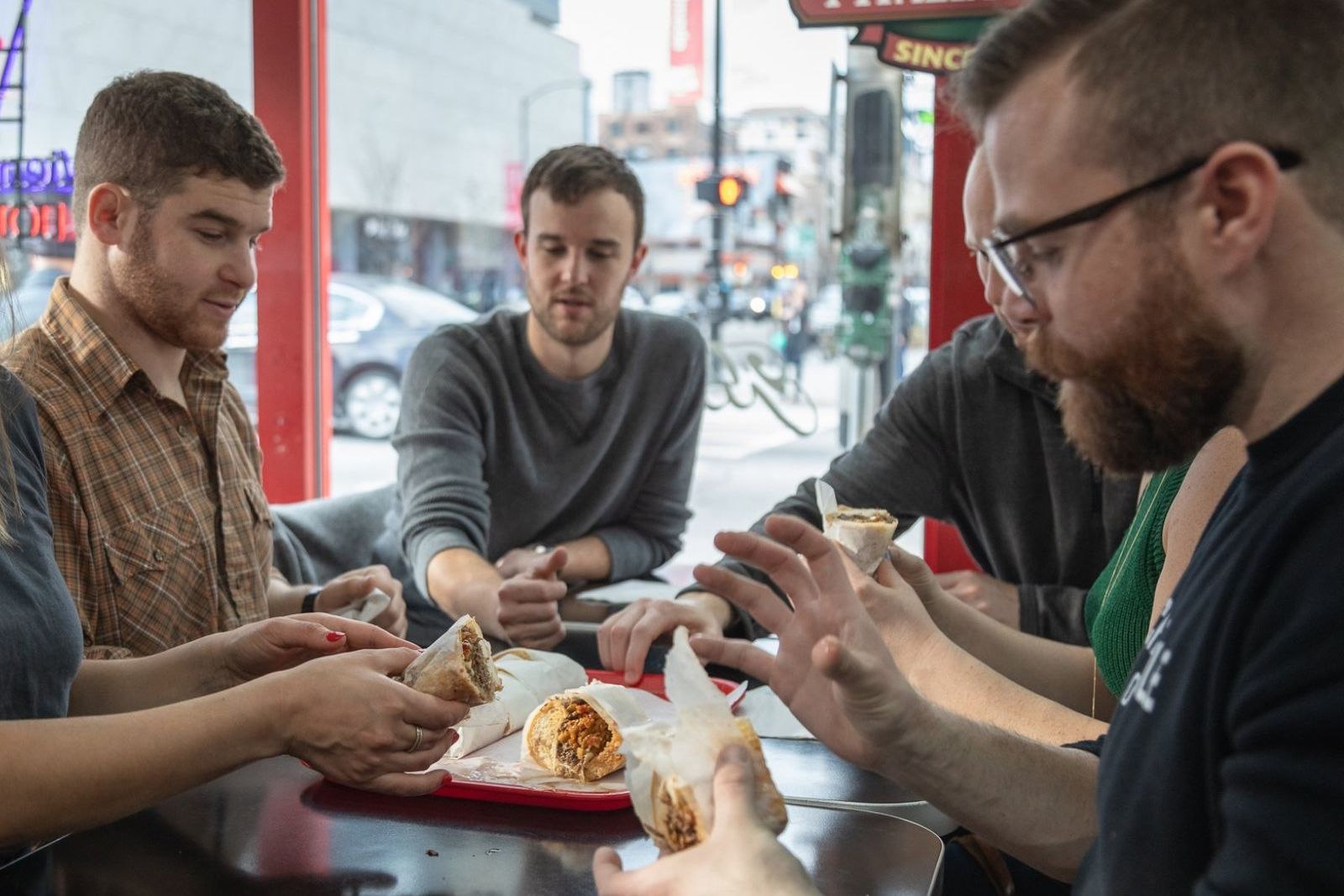 TOUR DESCRIPTION
Join us for the ultimate foodie adventure in Chicago's historic River North area alongside a local guide who can show you the best spots for some of the city's best-loved dishes. From deep-dish pizza to Chicago-style hot dogs, this tour will leave you filled with delicious local foods as well as some insider knowledge into the city's culinary history and culture.
Highlights


Get a taste of Chicago's most famous food in one of the city's most historic neighborhoods


Discover why locals have so much passion for their very own


Chicago-style hot dog


Enjoy a slice of pizza taken to a whole new level in deep-dish form


Tap into Chicago's immigrant roots with a bite of Italian beef from one of the city's original vendors


Local English-speaking guide
3 Food Stops with 3 Food Samples such as a Chicago-style hot dog, deep-dish pizza, and Chicago sandwich: Italian beef
Additional food
Drinks
Tips/gratuities for your guide
Important Information
What is included in the tour?
Local English-speaking guide and 3 Food Stops with 3 Food Samples such as a Chicago-style hot dog, deep-dish pizza, and Chicago sandwich: Italian beef
What isn't included in the tour?
Additional food, drinks, tips/gratuities for your guide
Where do we meet?
The Chicago Theatre (underneath the marquee), 175 N. State Street, Chicago, IL 60601
Where does the tour end?
A central location in the River North neighborhood near the Chicago Brown Line "L" Station
What is the duration of the tour?
What is the group size of this tour?
The maximum number of people on this tour will be 12 passengers.
What If I have particular dietary requirements?
This tour features visits to establishments that are not always able to cater to all dietary requirements, and the food options might be limited. For any specific dietary request, please notify us within 24hr of the start our and always begin each tour by telling your tour guide. Please email us at info@chicagourbanadventures.com.
What if I can't find my guide?
If you have any issues on the day of your tour, please call +1 312 973 3877
Can I cancel my tour?
Free cancellation up to 24 hours before activity.
MORE INFORMATION
Your Chicago food tour will take you through the River North neighborhood — the original Chicago foodie destination — to sample some world-famous Chicago dishes, local favorites, and a sweet treat. It's an afternoon that will leave you full of delicious food and memories for a lifetime!  We start with a very well-known Chicago dish: the Chicago-style hot dog. Perfect for summers at a baseball game (cheering on the Cubs or Sox of course), or for a quick lunch on a work day, this local take on a hot dog is a debate-worthy food in Chicago and is taken very seriously by locals. Every Chicagoan has his or her own preference as to how the dog should be made, and you'll get a chance to try your guide's favorite version.  Next up is the world-famous Chicago deep-dish pizza! An entire meal unto itself, this staple of the Chicago food scene originated in River North in the 1940s when workers and families needed filling dishes at low prices. Your guide will take you to a pizza place that's an icon to Chicago natives to try the real deal for yourself.  After you've filled up on pizza and hot dogs, we'll then continue our tasting journey with a classic Chicago sandwich: Italian beef. This hearty meal came about during the Depression, and it's here to stay. You'll sample this sandwich in a real city institution — no-frills decor included!  We'll conclude your Chicago foodie experience here, with easy access to the 'L'.  Even if you say you'll never be hungry again, don't forget to note some great dinner recommendations from your guide. You won't regret it!