Online Delhi Experience: Mandala Art & Meditation Class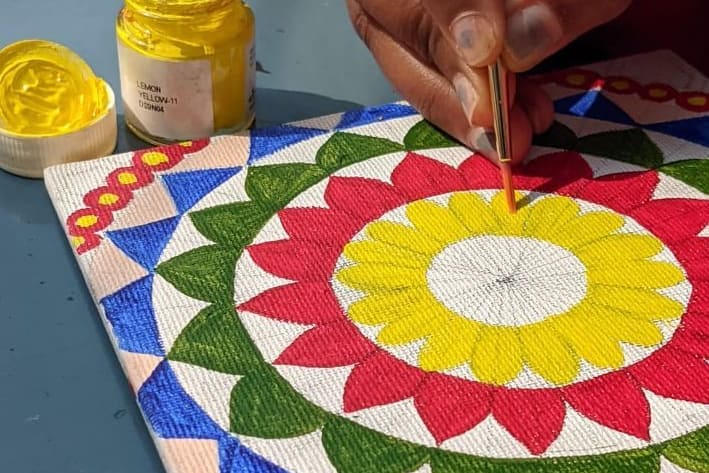 TOUR DESCRIPTION
Mandala art (geometric patterns) is so much more than pretty designs. Did you know, it's actually used as a form of meditation and has a rich history in Indian culture and religion? In this live online experience, you'll learn how to design your own mandala while using your breath to clear your mind and create positive energy. No art skills required! Note: This tour starts at 11:30 am (all days) or 7:30 pm (Monday, Wednesday, Friday) local Delhi time. Please remember to check the corresponding start time for your time zone. Your email confirmation will be in local Delhi time.
Highlights


Learn how to create your own personalised mandala in a fun and interactive session


Discover how mandala drawing is used as meditation, and learn the therapeutic benefits of practicing this art form


Try out different patterns of mandala design with your online host to guide you (even if you're not an artist!)


Learn about the importance of mandala art in Indian culture and religion


Local English-speaking guide
Drawing supplies
MORE INFORMATION
Local Impact: How you will help the local community by joining this tour:
By taking this tour, you are helping a local artist and tour guide to earn an income unable to work due to the COVID-19 global pandemic
We'll kick off your online experience with a round of introductions, so you can get to know your guide and other guests on the tour. We'll then give you an overview of mandala art, including what it is, the various types, and its religious and cultural importance in India. More than just artwork, mandala drawing is actually a form of meditation that can help to clear your mind, build patience, and give you a sense of peace and positive energy. Your Indian host will tell you about their own journey in mandala art and meditation and show you some of their own personal art pieces. Even if you're not an artist, by the end of the online class, you'll be able to draw your own mandala. Your host will show you how to make a mandala grid, and will explain the basic patterns, the relevance of different shapes, and how to use the grid for symmetry. They'll also explain how to use your breath while creating patterns, and how to make use of the environment around you for shape inspirations. Your host will check in on you while you're drawing, and you're free to ask questions as you go. Once you've drawn your mandala, you'll learn how color can be added and how it adds another layer of therapy, such as using green to bring calmness. You'll also learn how the colors you choose can help you to better understand yourself. Afterwards, your host will send you worksheets so you can continue to practice making mandalas on your own. You'll need: Geometry kit with a protractor, scale, and compass, pencil, eraser, sharpener, black fine-tip pen, paper (ideally A4 white or art sheet), colored pencils/markers/crayons in any color you love (optional).