Florence: Hidden Gems and Aperitivo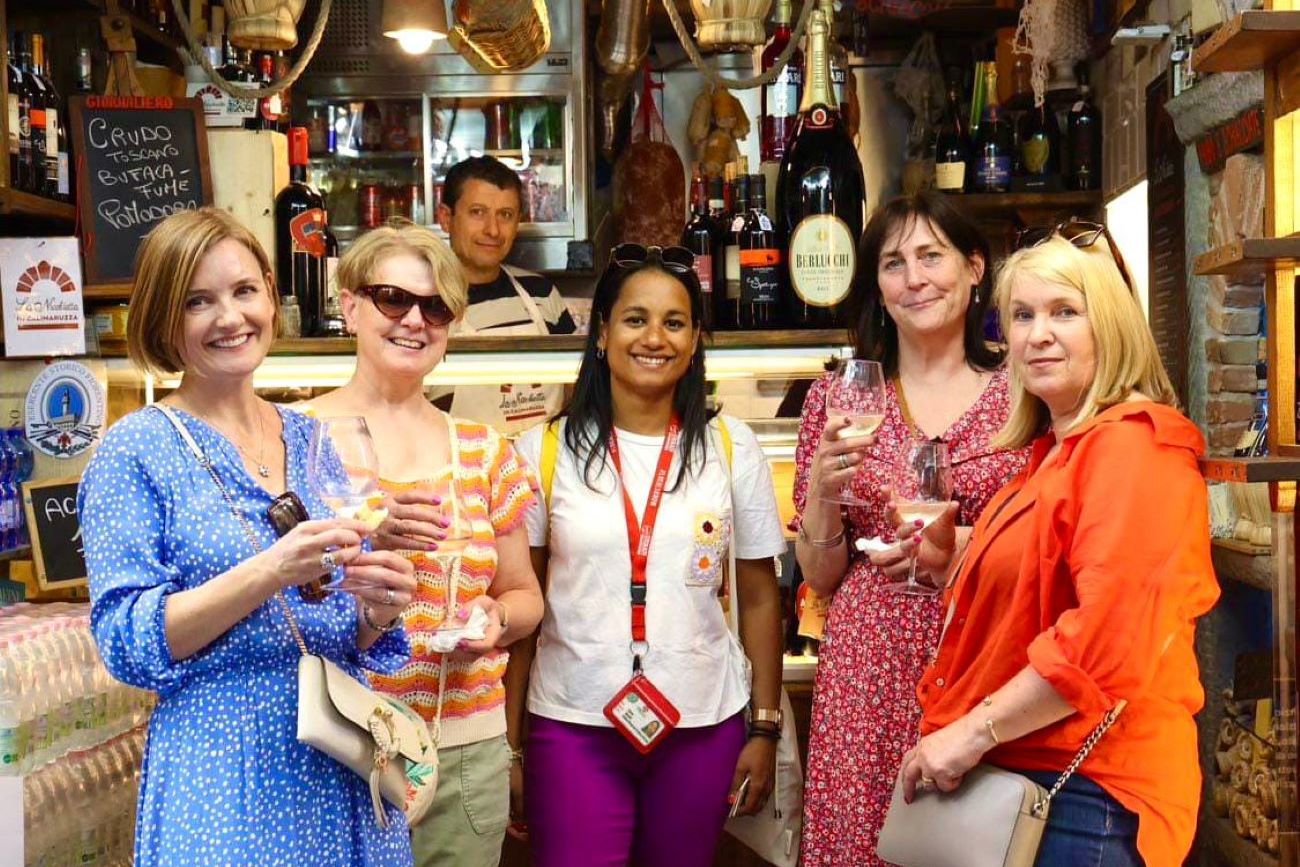 TOUR DESCRIPTION
Experience happy hour, the Florentine way. Join a local guide and dig deep into the Florentine lifestyle with a glass of wine in hand. Mingle with locals, get a taste of Florence's history, and discover the city's legendary wine families. We'll journey through the lesser-known streets, stopping at wine windows and immersing ourselves in the neighbourhoods that are often overlooked by visitors. Come and discover the timeless charm of the Italian art of happy hour, where every moment is a celebration of wine, friends, and good times. Salute!
Highlights


Learn about Italian wine culture and about the relationship that wine has with Florentine history.


Experience aperitivo, Italy's answer to happy hour, and see how this pre-dinner ritual plays into local life.


Stroll around some of Florence's most beautiful and historic neighbourhoods, including ones often missed by visitors.


Stop for a glass of wine at a 'Buchette di Vino', small windows dotted around the city through which the locals sell wine.


Finish the tour in style in an amazing bohemian square with a glass of red or a spritz.


Local English-speaking guide
2 drink stops (1 x Glass of Wine and 1 x Glass of Wine or Cocktail (Spritz, Negroni) with snacks
Tips and gratuities for your guide
MORE INFORMATION
Your tour begins in Piazza della Repubblica, a square in the heart of Florence. Surrounded by historic buildings and cafes, the square is the perfect place to kick off your happy hour tour. Meet your local guide, who will point out historic establishments like Gilli Café, founded in 1733 and Caffe Paskowski, founded in 1903. As we leave the original Roman Forum, you'll be able to admire the stunning Liberty-style palaces of Florence. You'll see the Cinema Centrale Gambrinus, which is now the Hard Rock Cafe, and a cocktail bar and restaurant dedicated to the famous Italian actress Sophia Loren. You will also have the opportunity to witness a remarkable mosaic made from recycled bottle caps by Neapolitan artist Luigi Masecchia. As we walk through the narrow alleys of Florence, you will come across a series 'Buchette di Vino', small windows that locals sell wine through. You'll have the opportunity to sample a glass of wine at one of these historic wine windows and learn about the local wine families who still own many of the city's noble palaces. Next, we'll cross the Arno River and enter the artisan districts of Florence, where you will see locals along the walkways with wine glasses in hand, enjoying the city's famous "Happy Hour." As you stroll through the vibrant neighborhood of San Frediano, known as one of the coolest neighbourhoods in the world according to Lonely Planet, you will be able to experience the city's thriving bar scene for yourself. Take a moment to snap a few photos at Fotoautomatica, one of the few vintage photobooths in the city. These photobooths, which take black and white passport photos, were restored by local Matteo Sani after years of working as a scenographer. Matteo has dedicated himself to repairing original photo booths, and they are a unique and fascinating part of the city's history. Finally, you will make your way to the lively Piazza Santo Spirito, where you can mingle with the locals and enjoy a glass of wine at one of the many local wine bars. This is the perfect opportunity to soak up the atmosphere of the city and savour the flavours of Italy. Your Urban Adventures Aperitivo Tour in Florence will leave you with a deep appreciation for the spirit of Florence.
We reserve the right to change both the route and places visited within the tour. Food inclusions are subject to change, dependent on availability on the day.