Private Florence Tour: Hill Towns in Tuscany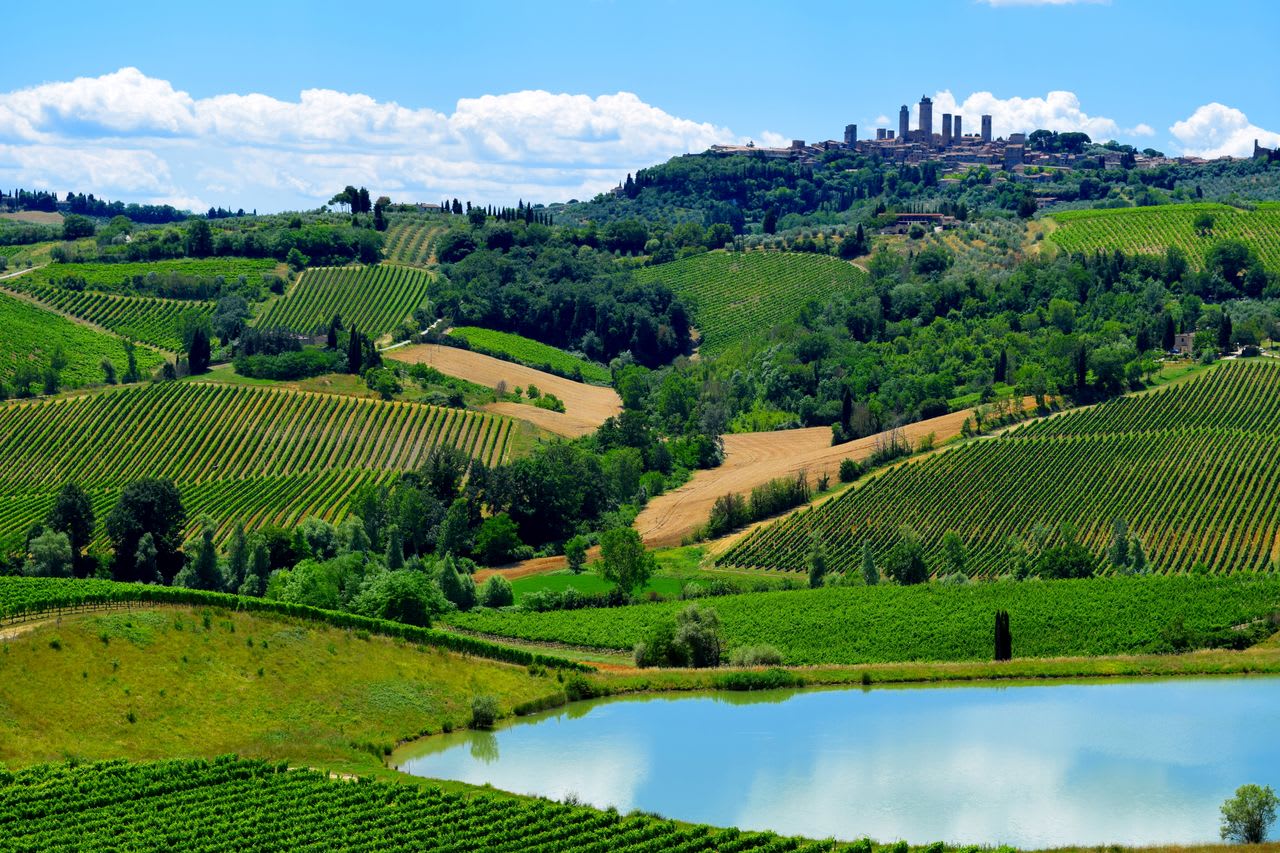 TOUR DESCRIPTION
Get out of the city and spend some quality time sightseeing around the medieval towns of the dreamy Tuscan countryside, with a local guide by your side. Your full-day tour will take in two of the most charming townships, Siena and San Gimignano, with a lunch stop at a boutique winery and plenty of free time for you to explore. We'll chat history, see incredible architecture, admire Instagram-worthy views, and drop in on artisan shops to discover locally made products from the region. This tour is priced for a group size of five travellers. Smaller groups may still book this private experience but will be charged the base rate for five travellers. Experience the best travel stories for yourself. Join a local expert and uncover hidden gems on this city adventure hand-picked by the world's leading travel publisher.
Highlights


Get out of the city for the day and soak up the sights and smells of the picturesque Tuscan countryside


Visit the stunning historic towns of Siena and San


Gimignano and browse artisan shops selling locally made products


Dig into an included lunch of seasonal produce at a beautiful boutique winery, with wine and olive oil tastings


Enjoy arguably the most beautiful panorama in Tuscany from the Piazzale Michelangelo


Local English-speaking guide and driver
Transport in a Mercedes air-conditioned van
Lunch of seasonal produce at a beautiful boutique winery
Wine and olive oil tastings
Pick up at your hotel
Additional food and drinks
Tips/gratuities for your guide.
MORE INFORMATION
After meeting your driver and tour leader in your hotel lobby, head off in your own private vehicle for a scenic drive through the rolling hills of the Chianti region, crowded as far as the eye can see with vineyards and olive groves. If you're looking for heaven on earth, we think you may find it here. First up, make your way to the town of Siena, stopping at the Basilica of San Domenico. Inside the church are the relics of Saint Catherine, the patron saint of Siena. Take a stroll to the Piazza del Campo to see the political centre of town where the famous horse race 'Il Palio' is held twice a year. From there, meander towards the Gothic Cathedral, which boasts an impressive collection of artworks by Michelangelo, Donatello and Bernini. Along the way, pass by a delicatessen that sells wild boar salami – if you fancy it, we can step inside for a tasting.  Then, it's onward to lunch at a boutique winery surrounded by the Chianti hills and vineyards. You'll get to taste the wine, as well as that famous extra virgin olive oil with seasonal produce.   Your second stop is the beautiful walled town of San Gimignano, a UNESCO World Heritage site that's known as Italy's medieval Manhattan because of the 13 towers that dominate its skyline as you drive towards it. The town gained importance during the Middle Ages when it was a stop on the major pilgrim route between Italy and France, known as Via Francigena (the road to France). The townsfolk produced silk and cultivated saffron that still grows around its foothills. Another important industry that still exists here today is that of Vernaccia di San Gimginano, a white wine of the area. Your tour leader will tell you about the history of the region and fill you in on where to find the best artisanal stores, coffee shops and gelato spots. You'll also get the chance to check out a selection of artisan stores selling locally made products and stroll the winding streets, admiring spectacular views of the valley beyond. Afterwards, meet your chauffeur for the transfer back to your accommodation in Florence. On the way, we'll stop for one last magnificent panorama at Piazzale Michelangelo, where we will gaze upon spectacular views of the city that you won't forget in a hurry. Before you go, don't forget to ask your local guide for tips on what else to see, do and eat during your stay in fabulous Florence.  This tour is priced for a group size of five travellers. Smaller groups may still book this private experience but will be charged the base rate for five traveller