Online Kathmandu Experience: Vegetarian Momo Cooking Class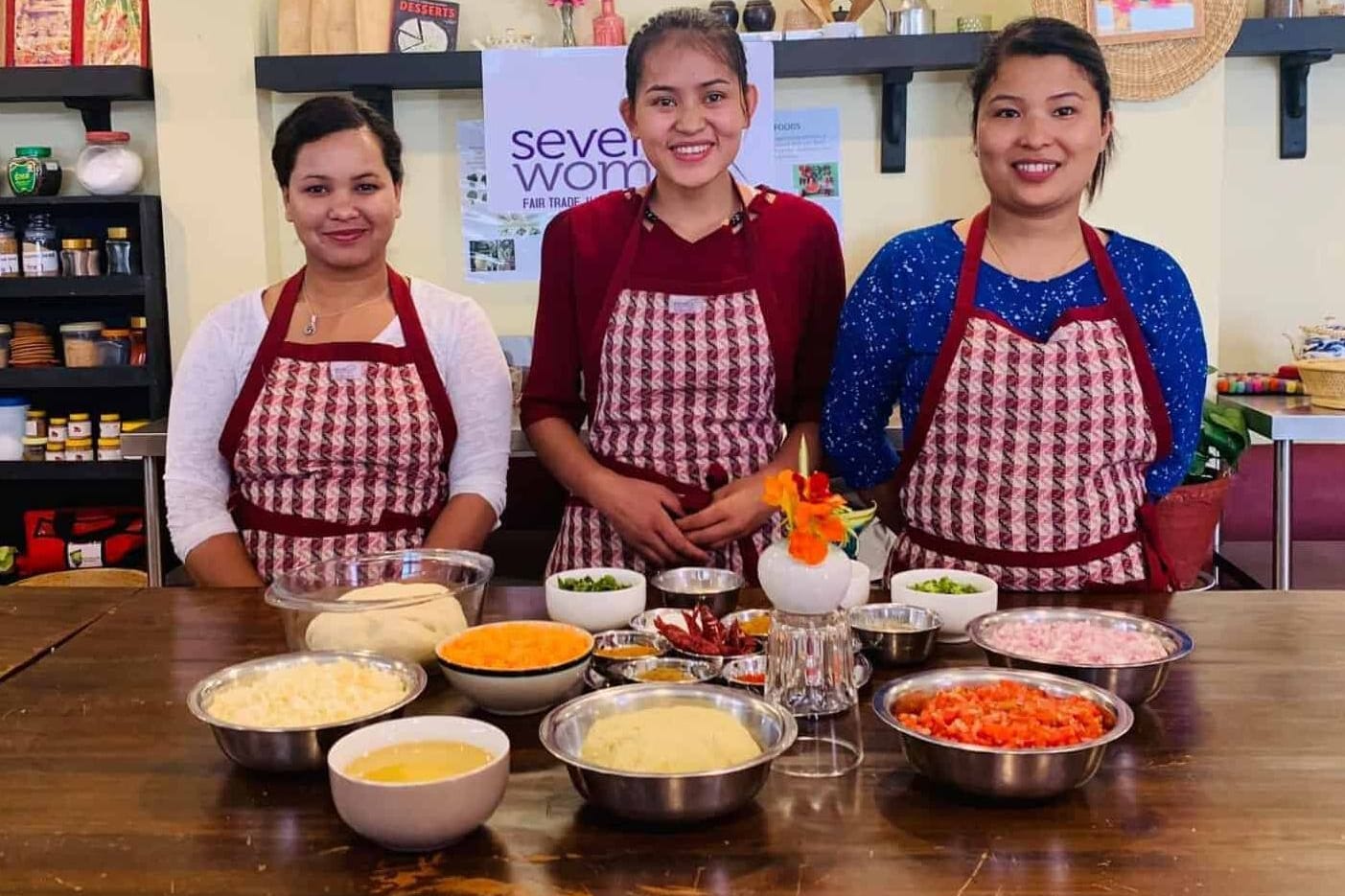 TOUR DESCRIPTION
In this online cooking class full of fun and flavour, you'll make traditional, vegetarian momos while learning about Nepalese culture from your local host. You'll also be supporting a good cause, with your tour fee supporting the social enterprise Seven Women, which has changed the lives of more than 5,000 disadvantaged women in Nepal.
Highlights


Learn how to make a traditional Nepalese dish that has been passed down over generations


Discover local culture and traditions as you chat with your host, live from Kathmandu


Make new friends from around the globe and enjoy a meal of vegetarian momos together


Hear the stories of Seven Women, a social enterprise working to help disadvantaged women in Nepal


Local english-speaking guide
Tools and ingredients for your cooking class
MORE INFORMATION
Local Impact: How you will help the local community by joining this tour: This tour is run in collaboration with Seven Women, a non-profit organisation that socially and economically empowers marginalised and disabled women in Nepal through skills, training, and employment Funds raised through this cooking class go directly to Seven Women's outreach programs such as a scholarship initiative. By booking this experience, you are contributing to the work they do and making a difference. By taking this tour, you are supporting a local community that is unable to earn regular tourism income right now due to the COVID-19 pandemic.
Take an online cooking class with heart on this experience that virtually visits a local social enterprise helping marginalized women. Your online cooking class will be run with Seven Women in Kathmandu, where you will meet one of the women and hear how this social enterprise has made such a massive difference in Nepal through its literacy classes, skills training, and income generation programs. You'll learn how Seven Women began and has grown from seven women operating out of a tin shed to now assisting more than 5,000 women. With your host guiding you live from Kathmandu, you'll prepare a dish of vegetarian momos (Nepalese dumplings). Using traditional techniques, you'll learn how to shape and steam the momos to perfection! You will need: Ingredients for the dough: 250g of wheat (maida) flour 110ml water (adjust quantities as needed when mixing) 2 tbsp cooking oil Ingredients for the filling: 2-3 peeled, boiled baby potatoes 150g cabbage, finely chopped 50g carrot, finely chopped 1 small red onion, finely chopped 50g fresh green coriander, finely chopped 50g green onion leaves, finely chopped 1 tbsp garlic paste 1 tbsp ginger paste 5 tbsp cooking oil or melted butter ½ tbsp cumin and coriander powder ½ tsp turmeric powder 1 tsp salt (to your taste)  Ingredients for the sauce: 70g sesame powder:70gm 250g tomatoes, finely diced 1 small red onion, finely chopped 50g fresh green coriander, finely chopped 1 tbsp garlic paste 1 tbsp ginger paste 2 tbsp cooking oil ½ tsp turmeric powder 1 tsp salt ½ tsp Szechuan seed powder (if available) Green chilies (optional, to your taste) Equipment: Board for rolling out dough Rolling pin Mixing bowl Frying pan Steamer pan