Online La Paz Experience: Traditional Bolivian Sopa de Mani (Peanut Soup) Cooking Class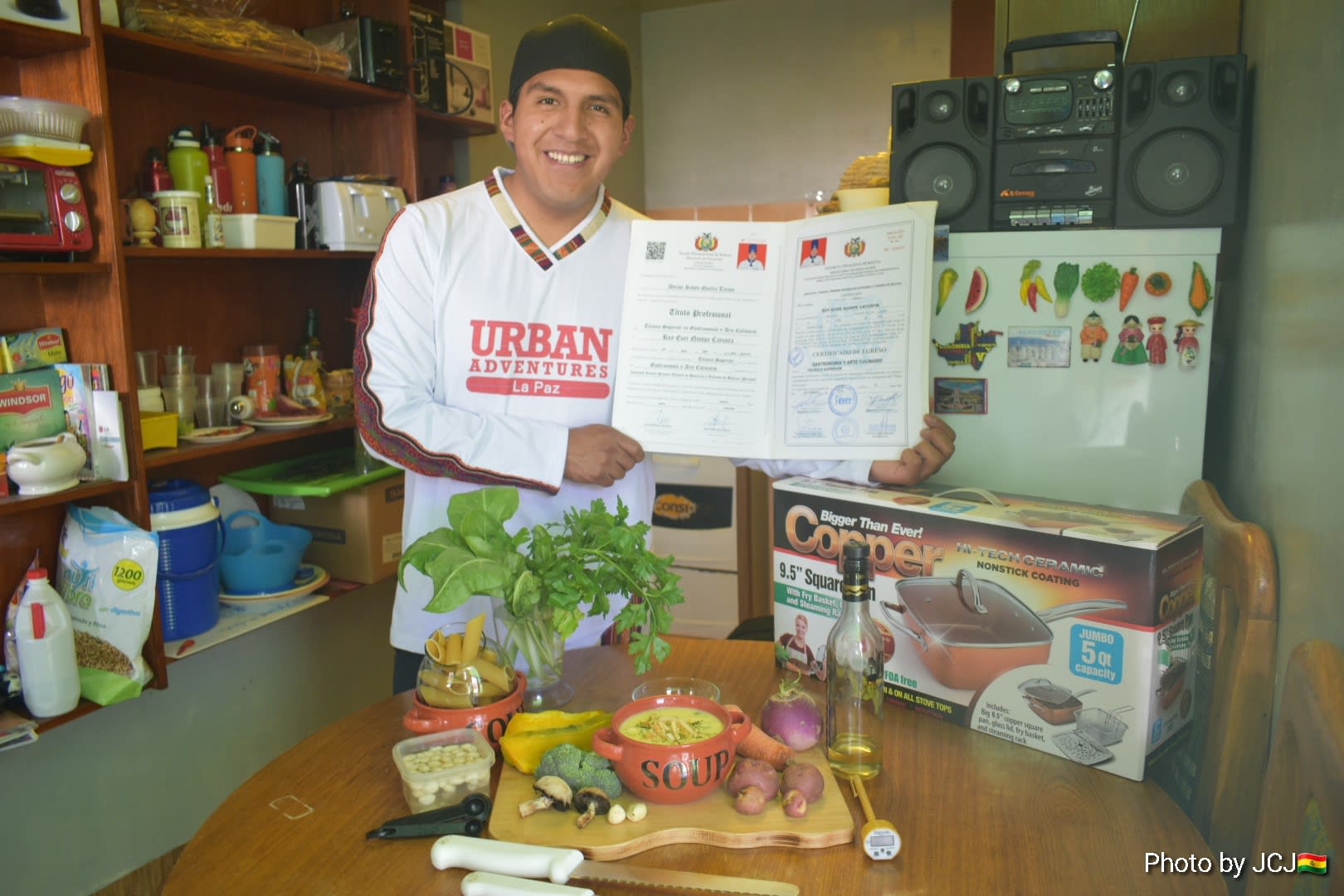 TOUR DESCRIPTION
Hola! Join this hands-on, virtual cooking class to learn how to make a legendary Bolivian soup, prepared right in your own home. You will be transported to a house in El Alto, at 4,055 meters in the highlands of Bolivia, and welcomed by a local chef and his family. Together with your hosts, you'll prepare a traditional 'sopa de mani' (peanut soup), using ingredients you can find at home. Both meat and vegetarian/vegan options are available. Note: This tour starts at 1 pm and 9 pm La Paz time. Please remember to check the corresponding start time for your time zone. Your email confirmation will be in La Paz local time.
Highlights


Expand your taste buds by cooking a delicious sopa de mani (peanut soup) with products available in your home country


Hear the stories and origins of some of the ingredients as you converse with new friends from around the world


Get a glimpse into the home of a local Bolivian chef and his family


Chat with your hosts about Bolivian culture and traditions while cooking together


Taste Che Guevara's last meal – a bowl of sopa de mani when he was a prisoner in Bolivia


Local English and Spanish-speaking guide
Ingredients and supplies for your cooking class. a list will be sent to you via email ahead of your experience.
MORE INFORMATION
Local Impact: How you will help the local community by joining this tour:
By taking this experience, you are supporting a local tour guide unable to earn regular tourism income right now due to the COVID-19 pandemic.
This experience takes you into a real Bolivian home to connect with local people.
Bolivian peanut soup is considered one of the country's tastiest dishes, with only a few ingredients but lots of flavors. It is typically served for special occasions such as birthdays, parties or as a Sunday meal. It was also the last meal of Che Guevara! He had a bowl of Sopa de mani, made by a local teacher, when he was a prisoner in La Higuera, Bolivia. Your online La Paz experience will start with a welcome from your Bolivian hosts and the chance to meet other participants joining from around the world. In Bolivian culture, cooking isn't just about the meal, but about coming together with family, and we'll do just that, as you're welcomed into a local family's home. We'll start with a glass of your favorite drink – your hosts will pour themselves a chuflay, which is Bolivia's national cocktail and made with Singani, a brandy only produced in the country's high valleys. If you'd like to make your own version of a chuflay, it is made in a tall glass, with ice, a jigger of Singani (brandy), and filled with ginger ale, lime slices, and then garnished with a slice of lime. We'll then begin our hands-on cooking class, with your chef giving step-by-step instructions. You will learn about the key ingredients and spices needed to make it as authentic as possible – the perfect skill to learn from home if you can't travel to Bolivia right now! To really make you feel like you're in the Bolivian highlands, your hosts will have some of their favorite folk music playing in the kitchen and will teach you a few words and phrases in Aymara, the country's official Native American language. Once your soup is ready, your chef will show you how to plate it. Then, savor this delicious meal alongside your hosts – it will taste even better because you've cooked it with your own hands! You will need: Ingredients (2 servings) 150 grams beef (see below for vegetarian/vegan alternatives) 1 clove of garlic 1 medium-sized purple onion 1 medium-sized carrot 1 celery stalk 1 small turnip 50 grams pumpkin 1 cup white peanuts 2 medium potatoes 1 tbsp peas 100 grams pasta (macaroni, rigatoni or conchiglioni) 200 ml vegetable oil 1 tsp ground turmeric ½ tbsp dried oregano 2 stems parsley Salt, ground pepper and ground cumin seeds to taste Vegetarian/vegan alternative: 200 grams fresh mushrooms 25 ml soy sauce 50 grams broccoli 200 grams cheese (gruyere or Parmigiano–Reggiano) Utensils:  frying pan, a pot of 4 liters,  knife, chopping board, blender or mixer, ladle, skimmer, 2 wooden pallets, 6 bowls, some absorbent paper towel