Women-Led: Online Ethiopian Cooking Class & Traditional Celebration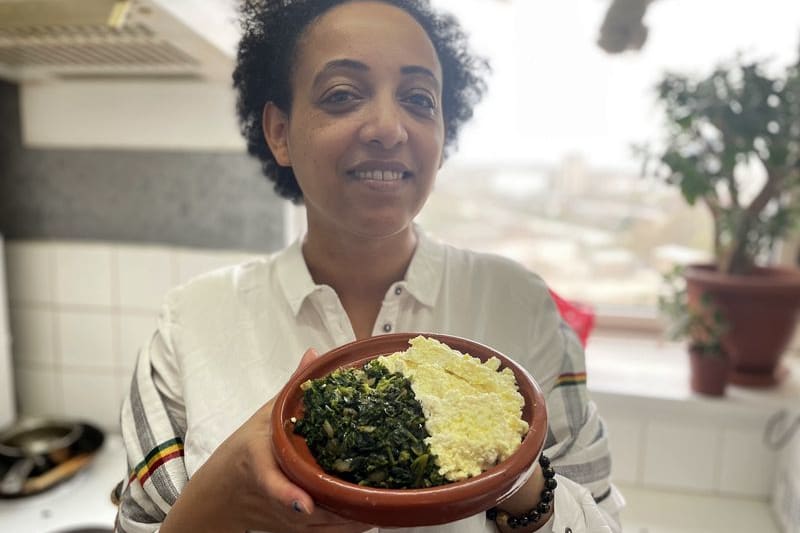 TOUR DESCRIPTION
On this online experience, it's New Year's Day every day! Join guide Sefanit, an Ethiopian woman from the social enterprise Women in Travel, as she virtually welcomes you into her London home for an interactive, holiday-inspired culinary class. Learn about Ethiopian culture as you prepare dishes that are traditionally served at Ethiopian New Year's — but in our case, can be enjoyed year-round! Note: This tour starts at 5PM and 7PM London time. Please remember to check the corresponding start time for your time zone. Your email confirmation will be in London local time.
Highlights


Learn how to make traditional Ethiopian gomen (collared greens) and ayib (fresh cheese)


Brew your own ginger tea and learn about the healing properties of ginger and its importance to Ethiopian cuisine


Chat with your host about her culture and traditions and learn how they celebrate New Year's in Ethiopia


Create your own traditional Ethiopian New Year's greeting card/drawing


Enjoy genuine human connection around the globe, from the comfort of your own home


Local English-speaking guide
Ingredients and supplies for your cooking class. a list will be sent to you via email ahead of your experience.
MORE INFORMATION
Local Impact: How you will help the local community by joining this tour:
Your tour is run in partnership with Women in Travel, a social enterprise that enables underprivileged women to access employment and entrepreneurship. 15% of all ticket sales go directly to Women in Travel.
Your guide, Sefanit, arrived in London from Ethiopia when she was 14 years old. She is working as a tour guide thanks to the support of Intrepid Urban Adventures and Women in Travel.
Welcome to Sefanit's kitchen! Join her live from her home in London as she teaches you about the culture and traditions of her Ethiopian heritage — with a holiday twist. Ethiopian New Year falls on September 11th, but in this one-hour online experience, we're celebrating it year-round. The word for New Year in Amheric is Enkutatash, which means the 'gift of jewels.' Legend has it that King Solomon of Jerusalem gave the Queen of Sheba jewels during her visit to Jerusalem some 3,000 years ago. Her return to Ethiopia coincided with the New Year's celebration in September, and the name Enkutatash came to be. In this interactive, online experience, you'll prepare one of Ethiopia's must-have New Year's dishes, called gomen, which is seasoned collard greens or kale, and ayib, a traditional homemade cheese. You'll also learn how to make your own authentic clarified butter to top off the meal (or simply switch out the butter for infused olive oil). Don't worry, Sefanit will be there every step of the way to teach you the process! While you wait for your meal to cook, you'll participate in another Ethiopian New Year's tradition: making your own New Year's greeting card – fun for all ages! To finish your online experience, you'll savour homemade ginger tea while Sefanit teaches you about the healing properties of ginger and its importance to Ethiopian cuisine. You will need: For the gomen, you will need the  following: 500g (2 cups) kale or collard greens 1 onion 2 cloves of garlic 1 tbsp olive oil 1/2 tsp salt (up to your taste) 1/2 tsp mit mita (or your favourite chilli powder) 1/2 tsp Ethiopian black cardamom powder (can use black pepper as a substitute) 10g (1/2 cup) fresh coriander (cilantro) For the ayib you will need the following: 500g (2 cups) full-fat Greek yogurt 1 pint (2 cups) full-fat fresh milk  For the Traditional clarified butter you will need the following: 250g (1 cup) unsalted butter 1 tbsp ginger, finely chopped 6 cloves of garlic 1/2 tsp fresh thyme  1/2 tsp white cumin powder 1/2 tsp black cumin powder  1/2 tsp koseret (can use oregano as a substitute) 1/2 tsp Ethiopian cardamom (can use black pepper as a substitute) 1/2 tsp fenugreek powder 1/2 tsp turmeric Equipment:  3 saucepans or pots 1 frying pan 1 cutting board  1 knife 1 strainer 1 kitchen towel or paper towels 1 cheesecloth or substitute  1 sieve (a flour sieve or tea sieve will do just fine) 3 wooden spoons, spatulas or whisks (Or a combination.We will need to mix all three components of the dish separately.)