Made In Japan Shopping Tour: Tokyo Cultural Curiosities Experience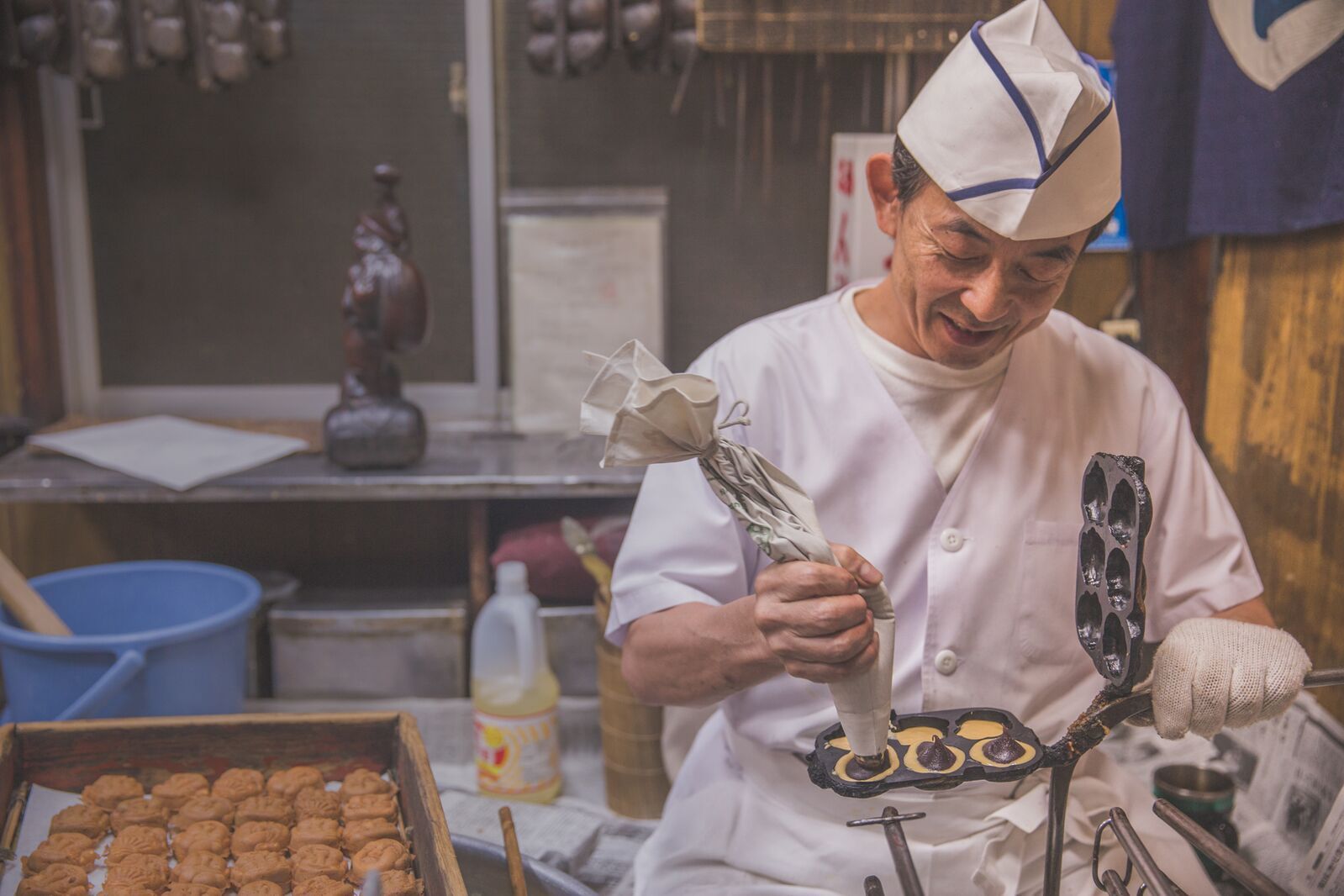 TOUR DESCRIPTION
Spend your day with us browsing Ningyocho, a charming neighborhood known for its special, traditional souvenirs and goods made right here in Japan and get some insight to the foods and snacks the Japanese people eat and typical items they use in everyday life.
Highlights


Time travel back to old-world Tokyo


Wander through back alleys and uncover hidden shops that have stood for centuries selling handcrafted goods


Snack on tasty traditional treats, from Ningyoyaki cakes to rice crackers


Shop for the perfect handmade souvenirs to take back home


Local English-speaking guide
Food Samples (expect Ningyoyaki cakes, rice crackers, Wagyu beef sukiyaki croquettes)
Amazake, a sweet non-alcoholic drink
Additional food and drink
Tips/gratuities for the guide
Important Information
Where do we meet?
Mechanical clock tower near McDonald's in Ningyocho (note there are 2 clocks — meet by the one on the same side as McDonald's). In Japanese: Ningyocho Karakuri Yagura Edo Rakugo
Where does the tour end?
Mitsukoshimae Station (Ginza Line, Hanzomon Line)
What is the duration of the tour?
What is the group size for this tour?
The maximum group number will be 10 passengers.
What If I have Particular Dietary Requirements?
Vegetarian and Vegan, options are available on this tour, unfortunately we can`t cater to gluten free customers.
Additional Information
We reserve the right to change both the route and places visited within the tour. Food inclusions are subject to change, dependent on availability on the day.
Are there any Covid-19 vaccination requirements?
While we strongly recommend that all travellers are vaccinated against COVID-19 to reduce the risk of transmission and avoid putting undue strain on healthcare services, vaccinations are not a requirement to join an Intrepid Urban Adventures tour. For further information, please review COVID-19 Health & Safety at https://www.urbanadventures.com/en/about-us/covid-19-customer-info
What if I can't find my guide?
If you have any issues on the day of your tour, please call +81 50 5809 5239. This local number doesn't accept messages, so should you require assistance, please call.
Can I cancel my tour?
Free cancellation up to 24 hours before activity.
MORE INFORMATION
Local Impact: How you will help the local community by joining this tour:
All the bars, restaurants you visit on your tour are 100% owned and run by locals.
On this tour you will visit the various 100+-year-old family-owned businesses and help maintain and support unique Japanese crafts, food, and culture, which will help keep these important traditions alive.
Spend your day with us browsing for traditional souvenirs and goods – made right here in Japan! Gain some insight into the foods and snacks that Japanese people eat and the typical items they use in everyday life. We'll start the tour in the neighbourhood of Ningyocho, a district known for its old traditions and, as you'll soon discover, some very tasty treats. We'll visit several shops that have been around for over 100 years, many of which are still family-owned and operated and specialise in unique goods made right here in Japan. To kick things off, we'll try some Ningyoyaki cakes, a true Tokyo specialty. This is a small sponge cake with sweet red bean filling and made in different shapes. We'll also visit a shop that specialises in a traditional snack: senbei (rice crackers), a favorite in many Japanese households. There are many other shops selling Japanese sweets, snacks, or drinks around this street. We especially recommend the Wagyu beef sukiyaki croquettes made by the famous sukiyaki restaurant Imahan. On a small street lined with izakaya (Japanese-style pubs) where neighbours stop by, there is a Japanese-style hotel, an old-fashioned ryokan. Your Tokyo tour will next lead you to one of the eight shrines where virtue, longevity, learning, and wealth are worshipped. Once we've exhausted Ningyocho, we'll visit another neighbourhood nearby, Nihonbashi. The district of Nihonbashi was a hub for merchants during the Edo period. Today, it is predominantly a financial district that houses trading firms and even the Tokyo Stock Exchange. And although Nihonbashi is very much a modern neighbourhood, it features many traditional Japanese shops hidden in its alleyways and even within its department stores. We'll visit a Japanese traditional Washi paper store that was established in 1653 (the Edo Period). You'll get to browse through their museum to watch archives that contain thousands of ancient documents from 360 years of history and Japanese traditional paper. You can purchase high-grade handmade paper products and fine products used by discerning artists from all over the world. We will pass by "Avatar Robot Cafe", an experimental cafe where employees who have difficulty leaving the house provide services by remotely controlling a robot. We'll also discover a toothpick shop that has been in business since 1704, where you will be able to check out delicate handmade toothpicks, plus other handmade items carved from Kuromoji or Lindera umbellata trees. Also, we may visit the kitchen knife shop, brush shop, gold flake shop or Dashi (soup stock) Shop.
Please note that this itinerary is subject to change. As most of the shops we visit are small, family-owned businesses, they sometimes unexpectedly close or alter their hours for the day. In such a case, we'll visit other nearby shops or attractions that keep with the theme and essence of the tour
We reserve the right to change both the route and places visited within the tour. Food inclusions are subject to change, dependent on availability on the day.