Made In Japan Shopping Tour: Tokyo Cultural Curiosities Experience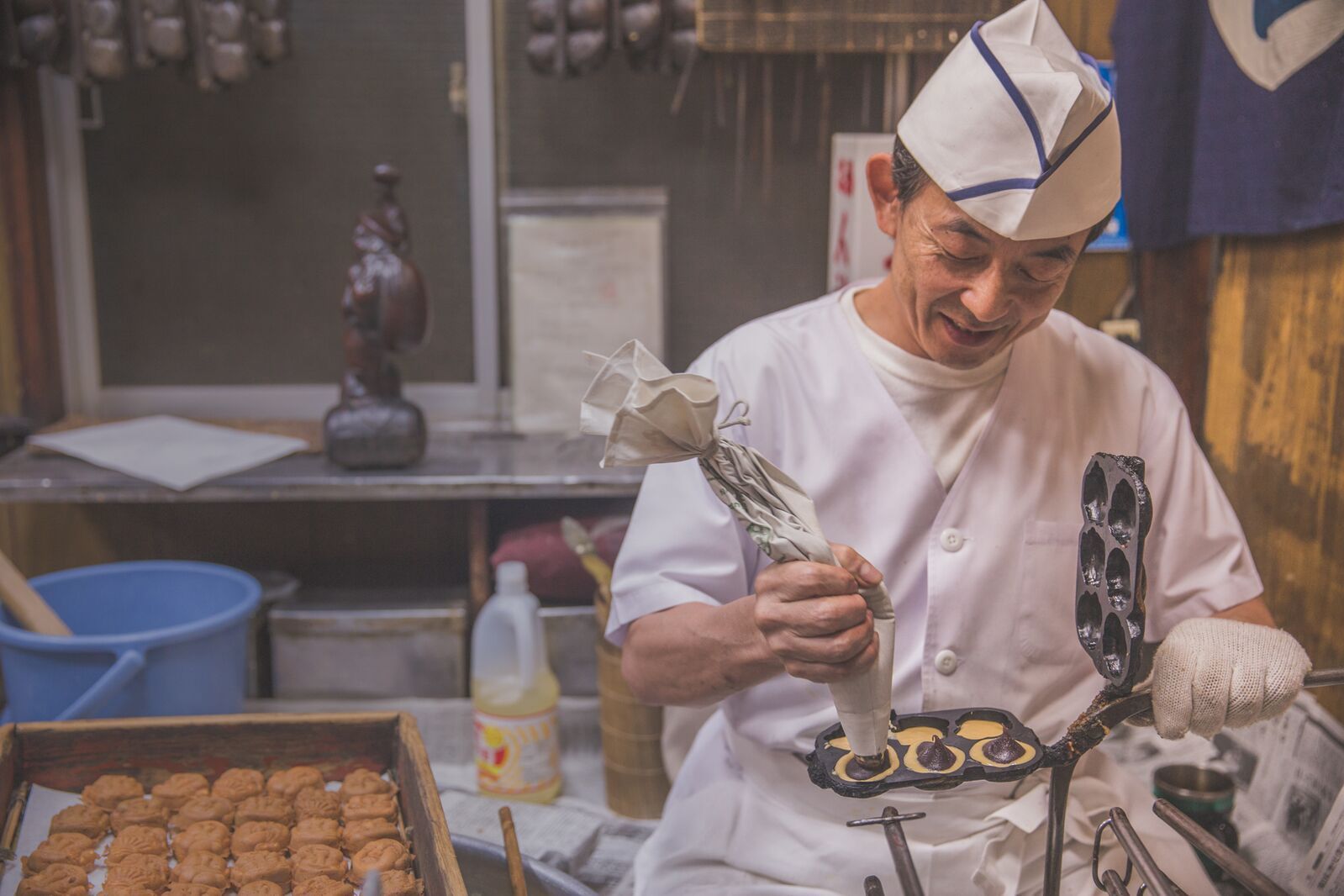 TOUR DESCRIPTION
Spend your day with us browsing Ningyocho, a charming neighborhood known for its special, traditional souvenirs and goods made right here in Japan and get some insight to the foods and snacks the Japanese people eat and typical items they use in everyday life.
Highlights


Time travel back to old-world Tokyo


Wander through back alleys and uncover hidden shops that have stood for centuries selling handcrafted goods


Snack on tasty traditional treats, from candies to crackers


Shop for the perfect handmade souvenirs to take back home


Local english-speaking guide
Food samplings
Additional food and drink
Tips/gratuities for the guide
Important Information
What is included in the tour
Local English-speaking guide, food samplings
What isn't included in the tour
Additional food and drink, tips/gratuities for the guide
Where do we meet?
Mechanical clock tower near McDonald's in Ningyocho (note there are 2 clocks — meet by the one on the same side as McDonald's). In Japanese: Ningyocho Karakuri Yagura Edo Rakugo
Where does the tour end?
Mitsukoshimae Station (Ginza Line, Hanzomon Line)
What is the duration of the tour?
What is the group size for this tour?
For shared tours, the maximum group number will be 12 passengers. For private tours, there must be a minimum of 2 passengers. A solo traveller may still book a private experience, but they will be charged a base rate for two travellers.
Are there any Covid-19 vaccination requirements?
While we strongly recommend that all travellers are vaccinated against COVID-19 to reduce the risk of transmission and avoid putting undue strain on healthcare services, vaccinations are not a requirement to join an Intrepid Urban Adventures tour. For further information, please review COVID-19 Health & Safety at https://www.urbanadventures.com/en/about-us/covid-19-customer-info
What if I can't find my guide?
If you have any issues on the day of your tour, please call +81 8030129269
Can I cancel my tour?
Free cancellation up to 24 hours before activity.
MORE INFORMATION
Local Impact: How you will help the local community by joining this tour:
On this tour you will visit the various 100+-year-old family-owned businesses and help maintain and support unique Japanese crafts, food, and culture, which will help keep these important traditions alive.
Spend your day with us browsing for traditional souvenirs and goods – made right here in Japan! Gain some insight into the foods and snacks that Japanese people eat and the typical items they use in everyday life. We'll start the tour in the neighborhood of Ningyocho, a district known for its old traditions and, as you'll soon discover, some very tasty treats. We'll visit a number of shops that have been around for over 100 years, many of which are still family-owned and operated and specialise in unique goods made right here in Japan. To kick things off, we'll try some Ningyoyaki cakes, a true Tokyo specialty. This is a small sponge cake with sweet red bean filling and made in different shapes. We'll visit a bakery that has been around for 110 years, where the father and son welcome guests with open arms and enjoy sharing their knowledge about their cakes and craft. We'll also visit a shop that specializes in a traditional snack: senbei (rice crackers), a favorite in many Japanese households, which is happily gluten and dairy-free. From there, we'll head to a local tenugui shop, where they sell woven hand towels depicting different traditional Japanese scenes. These towels are used for many things from wiping your hands to wrapping gifts, tea towels, and decorations. Your Tokyo tour will next lead you to one of the eight shrines in Ningyocho. We'll visit a shrine where virtue, longevity, learning, and wealth are worshipped. You can offer a prayer here, and wash a coin to ensure a prosperous life. Once we've exhausted Ningyocho, we'll visit another neighborhood nearby, Nihonbashi. The district of Nihonbashi was a hub for merchants during the Edo period. Today, it is predominantly a financial district that houses trading firms and even the Tokyo Stock Exchange. And although Nihonbashi is very much a modern neighborhood, it features many traditional Japanese shops hidden in its alleyways and even within its department stores. We'll visit an old-fashioned stationery shop that was established in 1912. You'll get to browse through the display of calligraphy brushes, inks, traditional paints, handmade greeting cards, and little dolls that tie into Japanese wedding and New Year's customs. We'll also discover a toothpick shop that has been in business since 1704, where you will be able to check out delicate handmade toothpicks, plus other handmade items carved from Kuromoji or Lindera umbellata trees.  Please note that this itinerary is subject to change. As most of the shops we visit are small, family-owned businesses, they sometimes unexpectedly close or alter their hours for the day. In such a case, we'll visit other nearby shops or attractions that still keep with the theme and essence of the tour.