Tokyo After 5 Experience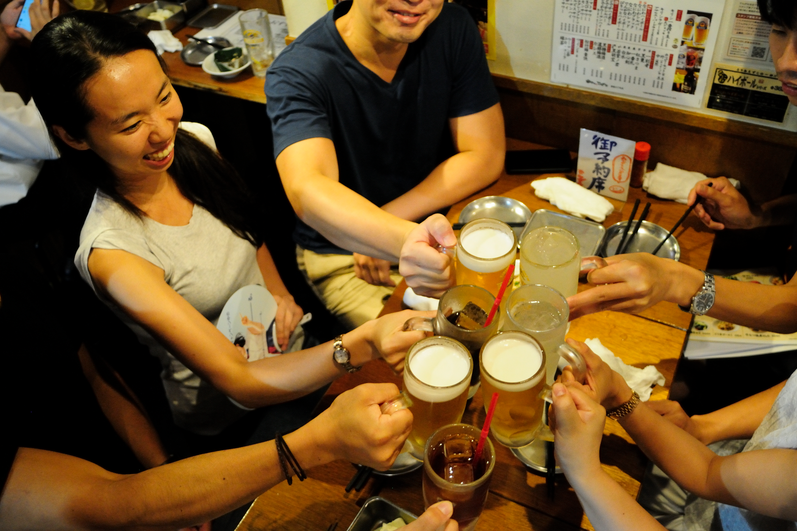 TOUR DESCRIPTION
Forget wasting your precious time getting stuck in awkward 'Lost In Translation' moments. Join a local guide on this Tokyo tour to experience the capital's busy, but oh so friendly and compact charms by night.
Highlights


Make like a local and savour legendary, iconic Tokyo flavours and dishes


Devour yakitori (skewered BBQ chicken) at a street yakitori bar


Enjoy Monja-yaki in the neighbourhood where it originated -MonjaTown (Tsukishima)


Visit a confectionery shop and learn about wagashi, a traditional Japanese sweet that changes with the season


Experience the clash of decades in the nostalgic atmosphere of modern, downtown Tokyo


Local English-speaking guide
Public transportation / 2 Subway Tickets
Three local food tastings (skewered): yakitori, monja-yaki, and wagashi
Two local drinks (sake, beer, or soft drink)
Additional drink (more sake, beer or soft drinks)
Tips/gratuities for your guide
Important Information
Where do we meet?
Mitsukoshi Ginza, in front of statue of Lion, 4 Chome-6-16 Ginza, Chuo City, Tokyo 104-0061, Japan
Where does the tour end?
Tokyo Metro Ginza Station
What is the duration of the tour?
What is the group size of this tour?
The maximum number of people on this tour will be 8 passengers.
What If I have Particular Dietary Requirements?
Vegetarian, Vegan, or Gluten Free options are not available on this tour.
What is legal age to drink alcohol in Japan?
Legal age for drinking alcohol in Japan is 20 years old. Customers under 20 will be served non-alcoholic drinks only.
Are there any Covid-19 vaccination requirements?
While we strongly recommend that all travellers are vaccinated against COVID-19 to reduce the risk of transmission and avoid putting undue strain on healthcare services, vaccinations are not a requirement to join an Intrepid Urban Adventures tour. For further information, please review COVID-19 Health & Safety at https://www.urbanadventures.com/en/about-us/covid-19-customer-info
What if I can't find my guide?
If you have any issues on the day of your tour, please call +81 50 5809 5239. This local number doesn't accept messages, so should you require assistance, please call.
Can I cancel my tour?
Free cancellation up to 24 hours before activity.
MORE INFORMATION
Local Impact: How you will help the local community by joining this tour:
All the bars, restaurants you visit on your tour are 100% owned and run by locals.
Tokyo's vibrant food culture is legendary and is one of the many reasons why people flock to the Japanese capital. On this Tokyo tour enjoy the food culture of Tokyo from an ordinary businessman's perspective, as well as the tradition of foods in everyday life of Tokyo. Throughout your Tokyo food tour, your local guide will explain the history of food and places you visit, sharing with you their own personal experiences and food-related family traditions and customs during the tour. We'll begin our tour taking a quick stroll through Depachika, the food section at the basement of the department store, where you can find a wide variety of dishes, from slightly upscale delicacies for when you have guests over, to those that are usually used as side dishes. Beautifully decorated Japanese, Western, and Chinese desserts of all kinds will satisfy any sweet tooth. A great variety of foods, confectionery shops and learn about the rich variety of traditional Japanese sweets (Wagashi) — and, best of all, choose one of Wagashi to try! Usually made of rice and red beans, these sweets change based on the ingredients available at each time of year, and even their shapes are inspired by what you can find in nature during that season. We may visit the Itoya stationary store that was founded in 1904, where you will notice Japanese paper culture is still alive today. After enjoying walking around Ginza at night, illuminated by neon lights, we'll travel to Tsukishima to visit "Monja" Street, where "Monja-Yaki" is said to have originated. Often compared with Okonomi-yaki in Osaka, Monja-yaki is a type of Japanese pan-fried batter with various ingredients. The ingredients are finely chopped and mixed into the batter before grilling. You'll have the chance to watch your food being cooked, chat with the cook, and devour your Monja-yaki fresh from the hot plate. In true local style, you'll use a small metal spatula to eat right from the grill. Be careful not to burn your tongue! After having Monja, we'll travel back to Ginza by metro and head for Yakitori Alley, an area with many casual bar-style restaurants and the birthplace of yakitori, one of many Japanese people's favourite appetisers. As many businessmen and women do after 5pm, we'll enjoy a drink of sake or a local beer, then sample yakitori at one of the many local restaurants, each with their own "tare" (sauce) mixed with their secret ingredients. Your tour ends here but don't forget to ask for tips on what else to see, do and eat during your stay. Fancy a cool local bar or a karaoke place? We'd be happy to recommend our favourites so that your night can continue. Equally, your guide can help with directions back to your accommodation or you can return to the start point with them.
Please note that this itinerary is subject to change. As most of the shops we visit are small, family-owned businesses, they sometimes unexpectedly close or alter their hours for the day. In such a case, we'll visit other nearby bar or restaurants that keep with the theme and essence of the tour. Food inclusions are subject to change, dependent on availability on the day.