Private Athens: Mythology and Legends Walking Tour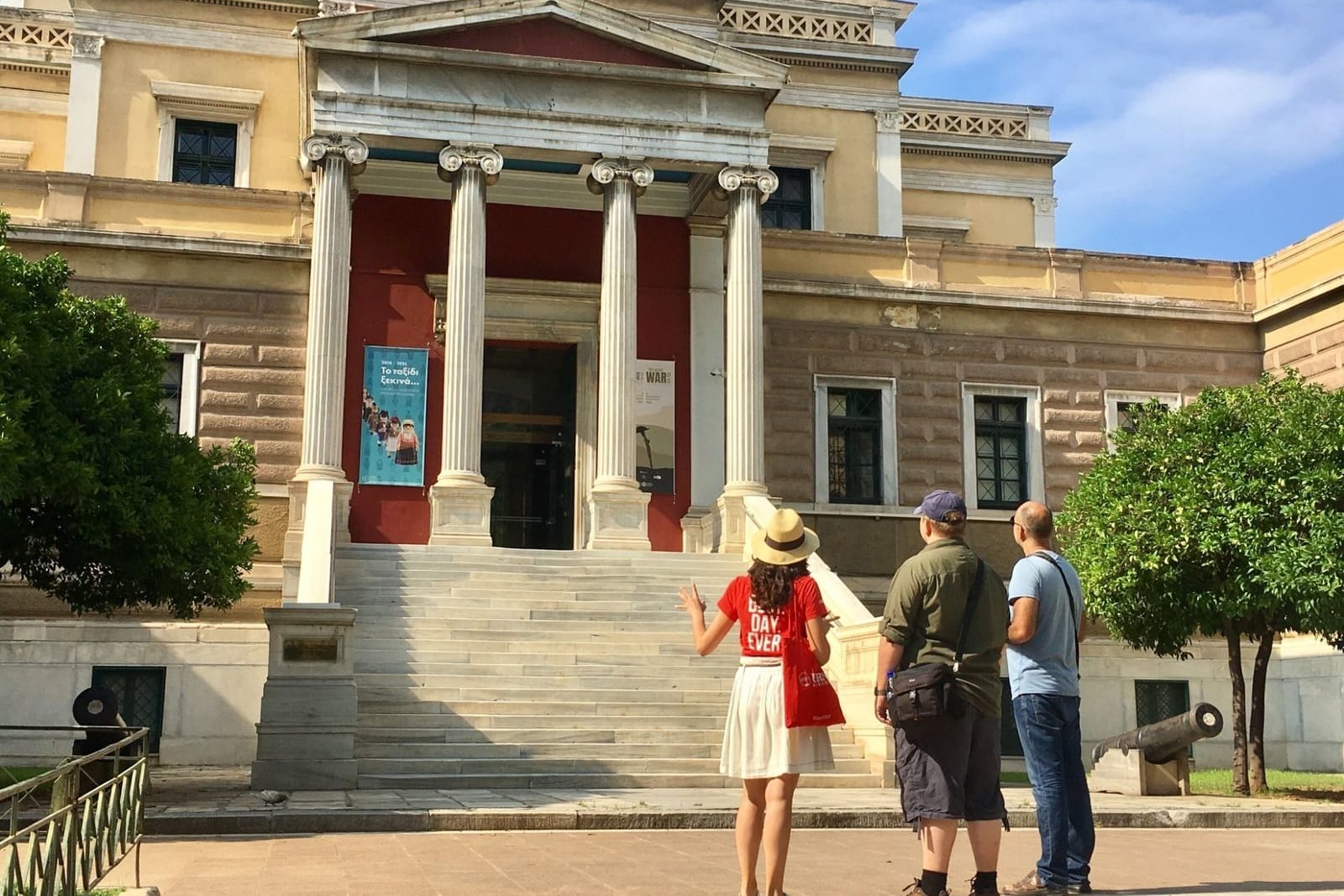 TOUR DESCRIPTION
Greece is the type of place where you can see ancient ruins while on the Metro - no biggie! Take a private tour of Athens and sip Greek coffee, admire the old and new architecture, and see a traditional Greek changing of the guard ceremony.
Highlights


Immerse yourself in the city's ancient history while also learning about Athens today on this jam-packed private tour


Walk along streets lined with historical sites, from the famous to the unknown


Learn about Athens' history and modern-day life from a local perspective instead of a guidebook


Witness the Greek changing of the guard


Explore secret corners of the city that you'd never find on your own with a local guide all to your self


Local english-speaking guide
Greek coffee or soft drink
Transport
Entrance fees
Tips or gratuities for your guide
Important Information
What is included in the tour?
Local English-speaking guide, Greek coffee or soft drink
What isn't included in the tour?
Transport, entrance fees, tips, or gratuities for your guide
Where do we meet?
Syntagma Square (at the exit of Syntagma metro station), in the middle of the square at the fountain
Where does the tour end?
Academy of Athens, 28 Panepistimiou Street
What is the duration of the tour?
What is the minimum group size for the private tour?
This tour is priced for a minimum group size of two travellers. A solo traveller may still book this private experience but will be charged the base rate for two travellers.
Are there any Covid-19 vaccination requirements?
Travelers 18+ must show proof of COVID-19 vaccination. Children 6-17 must present a negative COVID-19 test (PCR or lateral flow) conducted a maximum of 72 hours prior, proof of recovery dated up to 9 months, or proof of vaccination. For further information, please review COVID-19 Health & Safety at https://www.urbanadventures.com/en/about-us/covid-19-customer-info
What if I can't find my guide?
If you have any issues on the day of your tour, please call +30 698 067 9166
Can I cancel my tour?
Free cancellation up to 24 hours before activity
MORE INFORMATION
This whistle-stop Athens private tour is packed full of all those must-see Athens spots as well as those hidden gems that can only be found with a local by your side. Dive into the very soul of Athens and discover exactly what makes this city so very special — aside from all that ancient history. Start this historical Athens walking tour by meeting your local guide in Syntagma Square, the most important and crowded square in Athens, surrounded by impressive neoclassical buildings. The best known is the Grande Bretagne, once a royal palace but now a luxury hotel which has housed everyone from Churchill to Madonna. At the upper end of the square see the Evzones, the guards of the Constitution, and the tomb of the unknown soldier. The Evzones are traditionally dressed with 17th and 18th century clothes: an impressive white skirt, red hat, and an old rifle. The changing of the guard happens every hour, and you simply cannot tour Athens without seeing this spectacle – which is why we've incorporated it into this tour! Watch the ceremony while your local guide explains the tradition. Next on this Athens tour you'll jump on the metro and travel to Acropolis station. Travelling between these stations is like stepping back in time; both have exposed ancient ruins behind glass, discovered during the excavations for the metro system. But these are just a taster of the ancient ruins to come… You'll exit the station and take a walk around the walls of famous Athens Acropolis, passing by the Ancient Agora. We'll walk along ancient roads, admire new architecture, and hear about the customs and traditions that still exist today. This is the central hub of classic Athens history, and you'll hear the stories behind this monument from your local guide. (Please note that if you wish to tour inside the Acropolis, this will have to be done separately on your own time.) Afterwards, explore the Plaka area. Shop for souvenirs along Adrianou Street, where you can find local products such as ouzo (Greece's national alcohol). You'll also see shops that specialise in olive oil, sponges, icons, leather sandals, and bags — something you won't experience on other Athens tours. Continue walking to Diogenis Square, under the impressive wall of the Acropolis. See Hadrian's Arch, built in honour of one of the most glorified Roman emperors. Directly behind it you can see the ruins of the Jupiter (Zeus) temple as you taste and feel the history of Athens. Pass by the National Garden and Zappeion, to arrive at the white marble Panathinaiko Stadium. It was here that the first Olympic Games took place and where the 2004 Olympic marathon ended. Finally, you'll be taken back to present-day Athens to admire some of Athens' more modern architecture.We walk through the new city highlights, where life goes on in modern rhythms. See where locals wander , shop, and gather. Visit the Kolonaki area, which is the heart of today's Athens. The Athens walking tour comes to an end at the Academy of Athens, where you are free to continue your own personal exploration, or your local guide can tell you how to get back to your hotel, where you can digest all that history!