Private Athens Tour: Markets & Ancient Ruins Discovery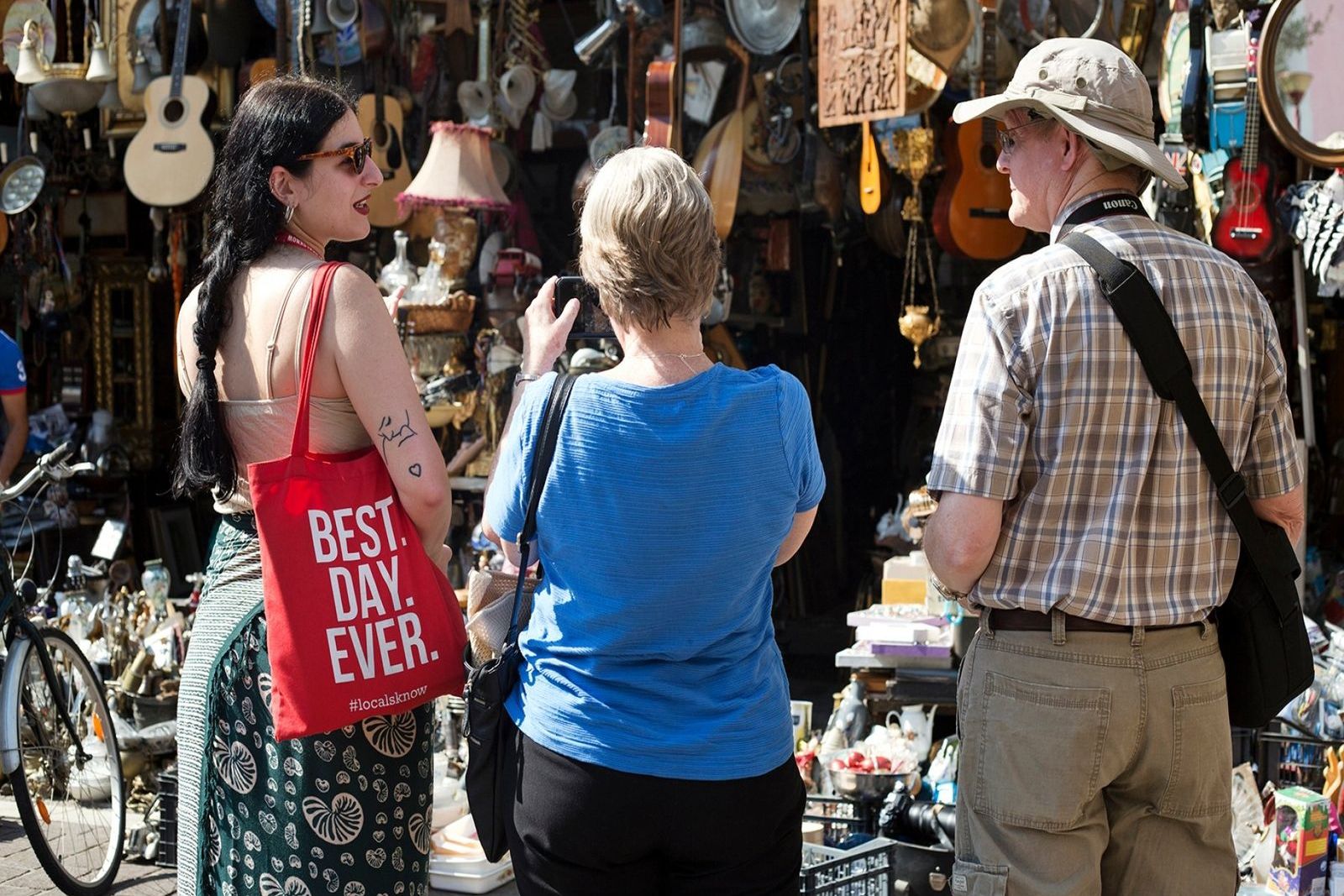 TOUR DESCRIPTION
Athens makes traveling easy; the streets are filled with cultural, historic, and culinary icons. The problem is knowing on which streets to find these treasures! Join this Athens private tour to enjoy the benefits of having your own local guide who will show you fresh produce, retail hot spots, ruins, temples, markets, and mosques.
Highlights


Dive deep into the history of the ancient city of Athens, with a local to guide you


Explore the city's many markets and legendary traditions within


Step back in time and get insider knowledge on the city's famous landmarks


Discover Athens' more recent history and architecture


Wander around the famous neighbourhood of Plaka and sip coffee at a local's favourite joint


Local English-speaking guide
Coffee or soft drink
Local sweet
Food and additional drinks
Tips and gratuities for your guide.
Please note that this tour does not go inside the Acropolis.
MORE INFORMATION
Local Impact: How you will help the local community by joining this tour:
All the stores you visit on this tour are 100% locally owned and run. Supporting small-scale, locally-run businesses helps to preserve the traditional character of old Athens.
By joining this tour, you are supporting a street vendor who sells traditional Koulouri sesame rings, which helps increase his income.
At least one store on your itinerary is dedicated to the preservation of locally-produced crafts.
We start your Athens tour by meeting your local guide at Ktozia Square, then head to the Mayor of Athens' neo-classical building on Athina Street, one of the busiest in Athens. Starting at 9.30 AM when the city's shops and markets are bustling with Athenians, you'll see the shop owners get ready for a day of business, just as they have done for the past 2,000 years. You will experience the spirit of Greek life with the same commerce of food that existed thousands of years before, and your local guide will be explaining these practices to you along the way. On this Athens market tour, you'll dive into the Athenian way of life as your guide leads you through the markets. Here you will find every Mediterranean fruit, vegetable, meat, cheese, and more on offer. Experiencing local produce is one of the best things to do in Athens, and you'll be able to pick out all the local favourites with the guide to show you the way. Filled with all these warm colours, tastes, and smells, the next stop is Monastiraki Square. The name of the square derives from the Greek word for monastery, and in the centre of the square sits the Pantanassa Monastery. The square is also home to the Adrian Library, an archaic temple constructed in the Corinthian style, and not far away is the 18th century Tzistarakis Mosque, now a ceramics museum. This Athens tour will point out all these landmarks to you and give you all the information you need to know about them in this cultural hub of the city. Next, we explore the square's flea market, mingle with merchants, and see ancient monuments as you uncover even more Athens history. Then, you'll head off to Ifaistou or Pandrossos to discover shops selling all kind of specialties such as leather sandals, handmade icons, Greek music instruments, and antiques. This is the perfect place to pick up a momento of your Athens travel experience, and the perfect way to get in touch with Athens market culture. Your tour will take you past ancient Agora next, where merchants traded enthusiastically during Greek and Roman times. You'll see the lively central neighbourhood of Thission and pass houses from the 17th and 18th centuries along the way, as we make our way to one of Athens' oldest areas, Plaka, to enjoy a freshly brewed coffee as we chat about all things ancient Greek. Your Athens tour ends at the entrance of the Acropolis, where you are free to continue on your own personal exploration or your local guide can give you advice on the best way to get back to your hotel. Don't forget to ask for tips on what else to see and do during your stay.
We reserve the right to change both the route and places visited within the tour. Food inclusions are subject to change, dependent on availability on the day.