Private Cairo: Alexandria City Discovery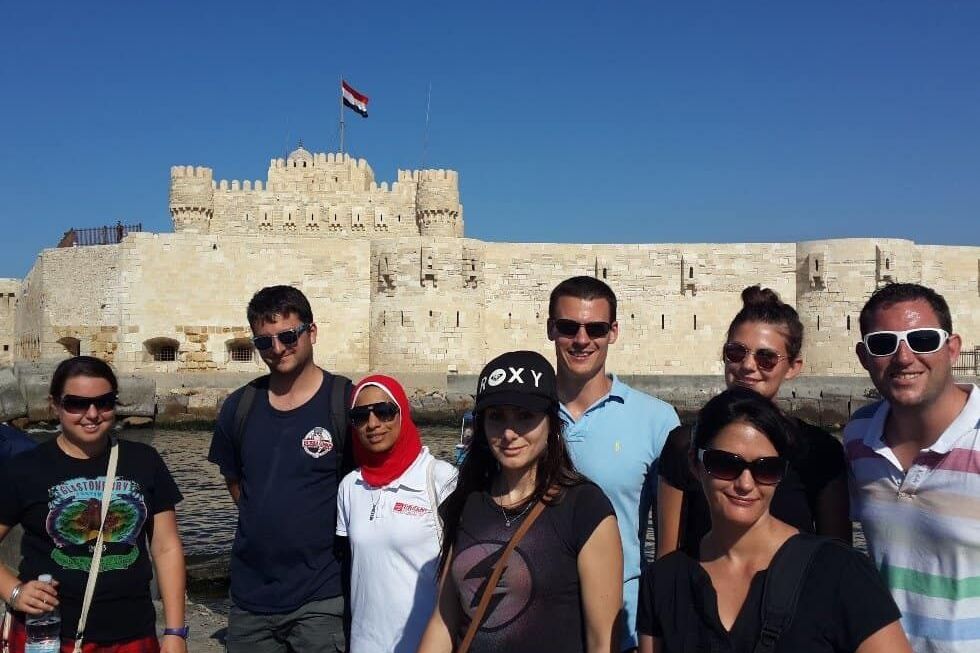 TOUR DESCRIPTION
Hit the road for a day in the crowd-pleasing city of Alexandria. See one of the world's largest Roman burial sites, nerd out at the Alexandria Library, and receive a reprieve from the Cairo heat with a fresh dose of Mediterranean sea air.
Highlights


Visit one of the greatest cities in old and modern times, Alexandria


Tour Alexandria's most significant and impressive spots


Head underground to experience the eerily fascinating Roman Catacombs


Be thoroughly impressed by the sheer magnitude of the Alexandria Library


Check out the former site of the Lighthouse of Alexandria, one of the seven wonders of the ancient world (bucket list item, checked!)


Marvel at the masterpiece relics of the underwater Roman ruins at the National Museum


Local English-speaking guide
Entrance fees to the catacombs
Entrance fees to the library
Entrance fees to the national museum
Transportation
Local lunch in Alexandria
Drinks
Tips/gratuities for your guide
Important Information
What is included in the tour?
Local English-speaking guide, entrance fees to the catacombs, entrance fees to the Library, entrance fees to the National Museum, transportation, local Lunch in Alexandria
What isn't included in the tour?
Drinks, tips/gratuities for your guide
Where do we meet?
Pharaohs Hotel, 12 Lotfy Hassouna, St, Dokki, Giza Governorate
Where does the tour end?
Pharaohs Hotel, 12 Lotfy Hassouna, St, Dokki, Giza Governorate
What is the duration of the tour?
What is the minimum group size for the private tour?
This private tour is priced for a minimum group size of two travellers. A solo traveller may still book this private experience but will be charged the base rate for two travellers.
Are there any Covid-19 vaccination requirements?
While we strongly recommend that all travellers are vaccinated against COVID-19 to reduce the risk of transmission and avoid putting undue strain on healthcare services, vaccinations are not a requirement to join an Intrepid Urban Adventures tour. For further information, please review COVID-19 Health & Safety at https://www.urbanadventures.com/en/about-us/covid-19-customer-info
What if I can't find my guide?
If you have any issues on the day of your tour, please call +20 109 799 9534.
Can I cancel my tour?
Free cancellation up to 24 hours before activity
MORE INFORMATION
Are you ready for an awe-inspiring day? Then let's get to it! Alexandria is one of the world's most impressive historical cities, and certainly a must-see in Egypt, so if you're thinking about doing this day tour from Cairo...what are you waiting for?! It'll take us about a three-hour drive from Cairo before our day tour of Alexandria will truly begin, and where better to kick it off than the Catacombs of Kom Ash-Suqqafa. One of the world's largest Roman burial sites, the Catacombs are one of Alexandria's most popular attractions. Watch your head as you descend into a network of underground passages, tombs, and antechambers via aspiral staircase over a three-level labyrinth (seriously cool, isn't it?!). Dozens of chambers with sculpted pillars and statues await your curiosity, as well as a large Roman-style banquet room, where relatives of the deceased traditionally hosted memorial meals. Our next stop is the National Museum, home to Greek and Roman era masterpiece ruins discovered under the water on the shores of Alexandria. Super impressive old stuff right here! We will enjoy an Egyptian local lunch, Alexandria is famous for its fresh seafood  (vegetarian and other dietaries will be accommodated). After lunch, we will head to the former site of the Lighthouse of Alexandria, one of the seven ancient wonders of the world. Although the lighthouse is no longer standing, atop its ruins lie the Citadel of Qaitbay, a defensive fortress built in the 15th century. Designed as defence along the Mediterranean coastline, the Citadel offers extensive views, fresh Mediterranean air, and a supreme sense of historical significance. Our final stop on the Alexandria day tour will be the Alexandria Library. Nerd time! Inspired by the original great library of Alexandria, the modern library was built to hold over eight million books. Built between 1995 and 2002, it covers 11 cascading levels and although it has not yet reached its capacity, it's an impressive homage to the ancient splendour of Alexandria. Pick your jaws up off the ground and explore! As one of Egypt's most historically significant cities, Alexandria really is a must-see for history and culture buffs. We have no doubt it will leave you enriched, impressed, and perhaps a little awe-struck. Following recent safety incidents, we recommend that you check your government's advice for their latest information on travelling in Egypt before your departure and ensure that your travel insurance covers you for all areas of your itinerary. We have links to prominent government travel advisories and regular updates on issues affecting this trip on our Travel Alerts page -  www.intrepidtravel.com/au/travel-alerts.