Hoi An Food Adventure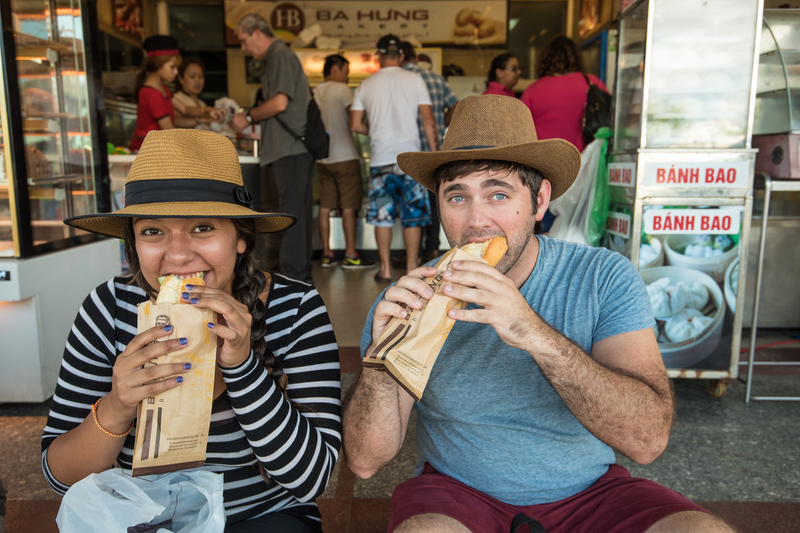 TOUR DESCRIPTION
Get ready, because Hoi An is about to charm the pants off you. Its secret weapon? Food. Unlock the flavours of the Old Town bite by bite, digging in everywhere you look and discovering unforgettable tastes at every turn. Let's go!
Highlights


Eat your way through Hoi An, local style
Discover hidden local food spots off the tourist trail


Venture into the Old Town's maze of alleys and bustling markets in search of tasty treats


Explore Hoi An's unique food culture through its best dishes


Enjoy a drink at a famed pub with more amazing stories of local life


Local English-speaking guide
All food and drink items indicated in the itinerary such as banh mi, sesame and peanut hot milk, Cao Lau noodle/ Chicken rice, deep-fried local sweets
Local beer and sake tasting
Additional food and drinks
Tips/gratuities for a local guide
Hoi An ancient town ticket 120.000vnd or 6usd/person
Important Information
What is included in the tour
Local English-speaking guide, all food and drink items indicated in the itinerary such as banh mi, sesame, and peanut hot milk, Cao Lau noodle/ Chicken rice, deep-fried local sweets, local beer and sake tasting
What isn't included in the tour
Additional food and drinks, tips/gratuities for a local guide, Hoi An Ancient Town Ticket 120.000VND or 6USD/person. (The Hoi An Centre for Cultural Heritage Management and Preservation requires visitors to purchase an entrance ticket for Hoi An's Old Quarter. You will need to have this entrance ticket before joining the tour, and we request that you bring it with you on your Hoi An Food Adventure Tour in case local authorities check.)
Where do we meet?
Front entrance of Hoian Post Office, 6 Tran Hung Dao street, Hoian
Where does the tour end?
Hoi An Old Quarter's Old Market, front entrance on Tran Phu Street
What is the duration of the tour?
What is the group size of this tour?
The maximum number of people on this tour will be 12 passengers.
Are there any Covid-19 vaccination requirements?
While we strongly recommend that all travellers are vaccinated against COVID-19 to reduce the risk of transmission and avoid putting undue strain on healthcare services, vaccinations are not a requirement to join an Intrepid Urban Adventures tour. For further information, please review COVID-19 Health & Safety at https://www.urbanadventures.com/en/about-us/covid-19-customer-info
Can I cancel my tour?
Free cancellation up to 24 hours before activity
What if I can't find my guide?
If you have any issues on the day of your tour, please call +84 90 419 33 08
MORE INFORMATION
Discover the Old Town of Hoi An after the sun has gone down — not only is it the best way to escape the midday heat, it's also the perfect excuse to dig into its tasty street food scene! Our Hoi An food tour starts around sunset and will walk you through local cafes, food stalls, markets, and restaurants, giving you a filling food adventure for the memory books. First up – a local bakery that has been making the tastiest banh mi in town for many generations. They use the freshest local ingredients and are famous for their banh mi, a scrumptious sandwich that will fire up your taste buds and get them ready for the flavours ahead! From one local fave to another, next, we'll join locals at a small eatery, taking a seat on the ubiquitous small plastic chairs and sampling tasty BBQ pork rolled with rice paper and fresh herbs. Served with typical soya dipping sauce, this dish is one of the highlights of the local food scene and an absolute must-devour. Our food tour of Hoi An continues into the atmospheric heart of the local taste as we head straight for the local eating spots. Your knowledgeable local guide will walk you through the colorful array of ingredients, filling you in on the most popular dishes in Hoi An and the significance of these foods to the traditional culture of central Vietnam. From here, we'll dig even deeper into the local food scene, passing through a maze of tiny alleys to emerge at one of our fave (secret) restaurants in Hoi An, where we'll sample the Hoi An's specialties: Cao Lau local noodles with pork and a nice wonderful sesame and peanut hot milk, or you may get another choice of Chicken rice instead. Believe it or not, there's more food to come! Our Hoi An food tour continues to another selection of food. Be sure to save space though, as we still have yet another treat in store for dessert and a local beer. We'll finish our Hoi An food adventure at a local hideouts bar of the town which you will have a chance to taste the local infused sake and reflect on your fave dishes of the evening (if you can pick!). 
We reserve the right to change both the route and places visited within the tour. Food inclusions are subject to change, dependent on availability on the day