Istanbul Conquered Tour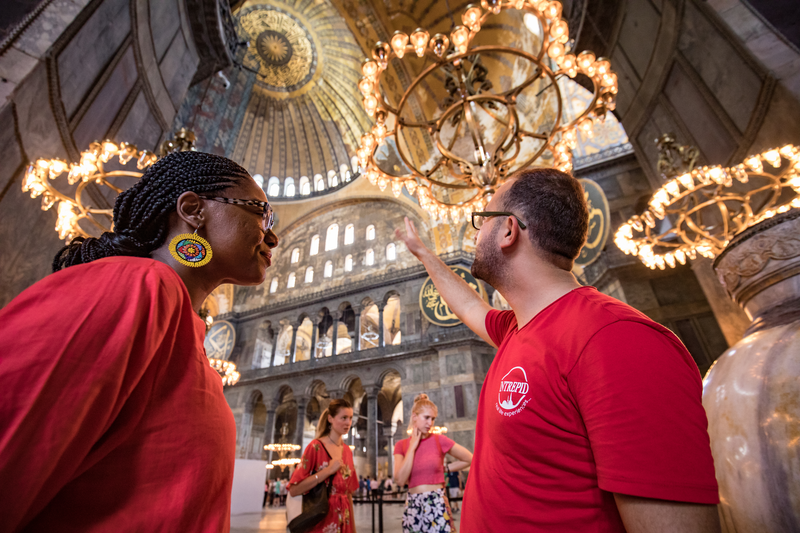 TOUR DESCRIPTION
Either I conquer Istanbul or Istanbul conquers me. – Fatih Sultan Mehmet – the conqueror. Journey in the footsteps of the city's most famous ruler and conquer Istanbul in just a day. This is the ultimate all-in-one introduction to the sites everyone must-see in Istanbul, with a locals-know twist. Visit Turkey's iconic UNESCO-listed historic spots such as the jaw-dropping Hagia Sophia, the beautiful Blue Mosque, and the pretty, tree-lined ancient Hippodrome, and learn how Istanbul has stood strong through the centuries. Eat a tasty Turkish lunch with locals at a hidden restaurant, then listen to stories of how generations of sultans lived at the grand Topkapi Palace, overlooking the gorgeous Bosphorus Strait. Finish it all off with a backstreet tour and some good-natured haggling with local artisans in the Grand Bazaar.
Highlights


Visit the mesmerising ancient site of Hagia Sophia and marvel at this 1,500-year-old masterpiece of Byzantine history


Take in the majestic Blue Mosque and learn about the delicate, intricate art of tile that makes up this world-famous site


Stop at the spine of ancient Hippodrome and imagine the chariot races and glorious gatherings in the very heart of the city for thousands of years.


Enjoy a tasty Turkish lunch with locals in a hidden restaurant


Haggle with local vendors and get lost in the labyrinth of alleys that make up the famous Grand Bazaar


Listen to colourful stories of sultans at Topkapi Palace and explore all the site's ancient treasures


Local English-speaking guide
Hagia Sophia, Blue Mosque, and Hippodrome visit (admission is free)
Topkapi Palace (except for the Harem) visit (entrance fee included)
Grand Bazaar Visit
Tea and coffee
Turkish lunch
Additional food and drinks
Tips or gratuities for your local guide
Important Information
Where do we meet?
Pudding Shop Lale Restaurant, Divanyolu Caddesi No. 6, 34400, Sultanahmet. The restaurant is located on the street where the tram line runs through Sultanahmet, approximately a 3-minute walk from the Sultanahmet tram stop
Where does the tour end?
What is the duration of the tour?
What is the minimum group size for the tour?
For shared tours, the maximum group number will be 12 passengers. The private tour is priced for a minimum group size of two travellers. A solo traveller may still book the private experience but will be charged the base rate for two travellers.
What If I have particular dietary requirements?
This tour can cater to vegetarians, vegans, gluten free customers. For any specific dietary request, we need to know 24 h before the tour start time. Please emails us at info@istanbulurbanadventures.com
Are there any Covid-19 vaccination requirements?
While we strongly recommend that all travellers are vaccinated against COVID-19 to reduce the risk of transmission and avoid putting undue strain on healthcare services, vaccinations are not a requirement to join an Intrepid Urban Adventures tour. For further information, please review COVID-19 Health & Safety at https://www.urbanadventures.com/en/about-us/covid-19-customer-info
What if I can't find my guide?
If you have any issues on the day of your tour, please call +90 850 309 68 76.
Can I cancel my tour?
Free cancellation up to 24 hours before activity.
MORE INFORMATION
Local Impact: How you will help the local community by joining this tour:
On this tour you will visit cultural heavy hitters like the Hagia Sophia Museum, the Blue Mosque, the Hippodrome, and Topkapi Palace. Your tour includes entrance fees to all of them, which helps to preserve these important cultural sites.
On this tour you will have a chance to try different Turkish delicacies at local cafes, and in doing so you will be supporting small, locally-owned business.
Can you "conquer" Istanbul in just one day? We're certainly going to try! Take a journey from Byzantium to Constantinople to Sultan Mehmet Fatih's city of Islam on this historical tour that stops at some of the most iconic sites in Turkey while also showing you the city's exciting present. Start your Istanbul tour with a dose of awe at Justinian the Great's Hagia Sophia. This masterpiece of Byzantine architecture stands tall and proud in downtown Istanbul, holding within its walls more than 1,500 years of Turkish history. This mind-bogglingly beautiful site is also somewhat of a chameleon — it has lived its long life as a church, a mosque, and now as a museum. It's also a movie star: anyone who's seen From Russia with Love will feel a bit like James Bond when they step inside. You'll then head just across the street to the jewel in the Istanbul crown. Sultan Ahmet I's Blue Mosque is one of the most striking sights in Istanbul, with its iconic blue-tiled walls (the tiles number in the tens of thousands!), 260 windows, and six minarets. Don't forget to ask your guide the significance of those six spires. Next, your Istanbul city tour will take you to the ancient Hippodrome. Today, this charming promenade is a popular meeting point for Istanbulites, but it is also an integral part of Turkish history. Chariot races once took place along this strip, which was also home to the notorious Nika riots — a dramatic political protest in 532 AD that led to the massacre of tens of thousands of people. Need a break? We'll step back to the present and join the locals as we lunch in a hidden café. You'll enjoy friendly conversation with members of the community and learn about daily life in Istanbul. Once you're filled with Turkish cuisine, Topkapi Palace awaits. This opulent complex overlooking the Bosphorus is a true Istanbul treasure, with many colourful stories about the rich sultans who lived there between 1453 and 1839.   Lastly, you'll seek out treasures of a different kind in Istanbul's famed Grand Bazaar, which offers up 3,000 shops to explore along 61 streets. Meet a few of the local characters, perfect your haggling skills, have a true Turkish coffee, and shop till you drop. Note that the Grand Bazaar is closed on Sundays, so if you choose a Sunday departure, you'll explore the nearby vibrant Spice Market, filled with delectable and colourful Turkish spices, treats, coffees, and teas. Following recent safety incidents, we recommend that you check your government's advice for their latest information on travelling in Turkey before your departure and ensure that your travel insurance covers you for all areas of your itinerary. We have links to prominent government travel advisories and regular updates on issues affecting this trip on our Travel Alerts page -  www.intrepidtravel.com/au/travel-alerts. 
We reserve the right to change both the route and places visited within the tour. Food inclusions are subject to change, dependent on availability on the day.