Kathmandu: Rickshaw Night Explorer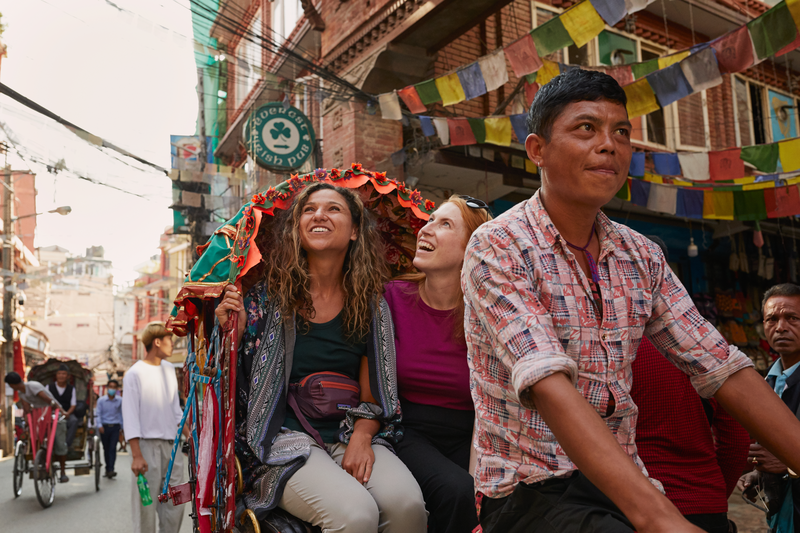 TOUR DESCRIPTION
Sit back and relax on an evening rickshaw ride through the city. See temples, shrines, spice markets, palaces, watch locals sipping hot chai at the place called Freak Street. Join this Kathmandu tour to experience the wonderful and darn-right weird sights of Kathmandu by night.
Highlights


Take an unforgettable ride on a rickshaw and get caught up in the energy of tourist-friendly Thamel
Breathe in aromatic spices at Asan market


Wander through atmospheric temples


Watch the world go by in Durbar Square


Be whisked through the laneways and backstreets of Kathmandu on a cycle rickshaw


Local English-speaking guide
Rickshaw hire
Entrance fee to Durbar square
Dinner
Tips & gratuities for guide & rickshaw driver.
Important Information
What is included in the tour
Local English-speaking guide, rickshaw hire, entrance fee to Durbar square
What isn't included in the tour
Dinner, tips & gratuities for guide & rickshaw driver
Where do we meet?
Hotel Marshyangdi, Chaksibari Marg, Thamel, Kathmandu
Where does the tour end?
Hotel Marshyangdi, Chaksibari Marg, Thamel, Kathmandu
What is the duration of the tour?
What is the minimum group size for the private tour?
The private tour is priced for a minimum group size of two travellers. A solo traveller may still book the private experience but will be charged the base rate for two travellers.
Are there any Covid-19 vaccination requirements?
While we strongly recommend that all travellers are vaccinated against COVID-19 to reduce the risk of transmission and avoid putting undue strain on healthcare services, vaccinations are not a requirement to join an Urban Adventures tour. For further information, please review COVID-19 Health & Safety at https://www.urbanadventures.com/en/about-us/covid-19-customer-info
What if I can't find my guide?
If you have any issues on the day of your tour, please call +977 980 188 0136.
Can I cancel my tour?
Free cancellation up to 24 hours before activity
MORE INFORMATION
Local Impact: How you will help the local community by joining this tour:
Your tour includes entrance fees to Kathmandu Durbar Square, which helps preserve local cultural heritage and maintain this important site.
Modern motorbikes and cars have mostly replaced the use of rickshaws in Kathmandu, but for your tour, rickshaws are hired directly from the drivers, providing much-needed business that benefits them financially.
As the sun goes down discover the myriad sights, sounds and smells of nighttime Kathmandu on an evening rickshaw ride through the city. Sit back and relax as your cycle rickshaw is expertly navigated through the buzzing backstreets and atmospheric laneways of this energetic place. Start the adventure in the touristic heart of the city, Thamel. The streets here are lined with shops selling everything from pastries to pashminas, and your rickshaw seat provides the perfect platform from which to do a spot of window-shopping along the way. Soak up the hive of activity taking place as you zip through this popular part of town. Leaving Thamel behind, head towards Durbar Square. Be sure to keep an eye out en route for many of the bustling local markets including Asan, a vegetable and spice market. This is also the oldest market square in all of Kathmandu. Continue on to Durbar Square filled with age-old temples, palaces and shrines that are bound to enchant. Why not park yourself in one of the temple squares to witness the world go by? A truly special experience. Or perhaps watch locals sip on some hot cha or simply hang out in one of the hippie era in Freak Street. It will never be a dull moment here. After the sights and sounds of this magical place have been absorbed, climb up onto your 'street helicopter' (cycle rickshaw) for the return ride back to Thamel. By the end of the tour you'll be sure to agree that getting amongst the city on a rickshaw ride through its backstreets and laneways is one of the best ways to discover authentic Kathmandu. Come and be entranced!