Mexico City Market Secrets & Salsa Making Lesson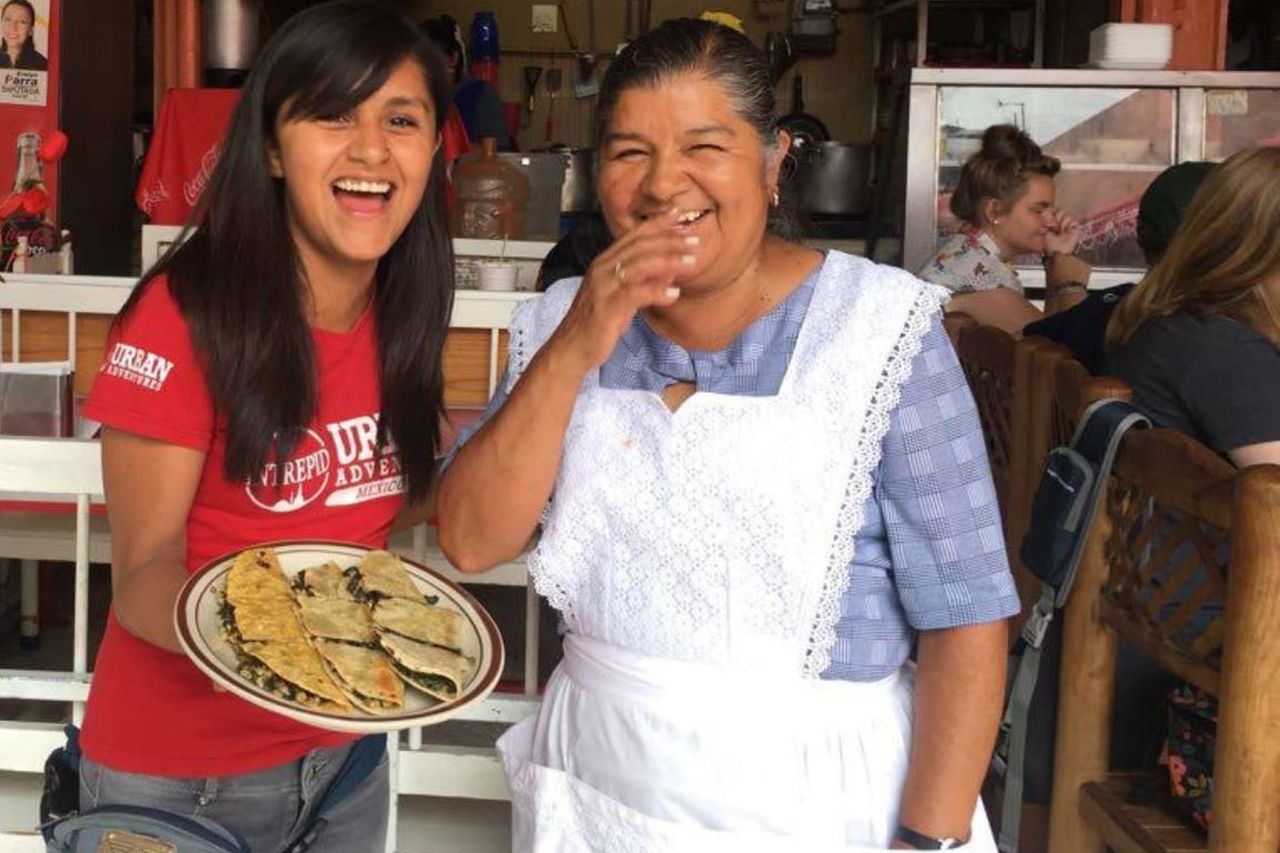 TOUR DESCRIPTION
Get a glimpse of local daily life as you walk the streets of Mexico City with your friendly, local guide. Shop for groceries in two off-the-beaten-path street markets, ride public transit and savour traditional street foods like tacos and tamales. Along the way, learn about the history, culture and politics of this great city before finishing with visit with a local family business for a quick and interactive salsa making lesson.
Highlights


Shop for everything from local produce to love potions at two different street markets that are far off the tourist trail


Learn about the country's political history and how it has shaped modern-day Mexico


Savour iconic Mexican street foods like tacos, tamales and huaraches, and make your own salsa from scratch


Visit with a local family and learn about their daily life in Mexico City


Experience Mexico City like a local by navigating public transit with the help of your guide


Local English-speaking guide
Public transportation
Samples of local food (tamale, Taco, Huarache to share, and coffee or atole)
Additional food beyond included samples
Tips/gratuities for the guide
Important Information
What is included in the tour?
Local English-speaking guide, public transportation, samples of local food (tamale, taco, huarache to share, and coffee or atole)
What isn't included in the tour?
Additional food beyond included samples, tips/gratuities for the guide
Where do we meet?
Hostel Mundo Joven Catedral facade / entrance. República de Guatemala 4, Centro Histórico de la Cdad. de México, Centro, Cuauhtémoc, 06020 Ciudad de México, CDMX
Where does the tour end?
Palacio de Bellas Artes facade /entrance. Av. Juárez S/N, Centro Histórico de la Cdad. de México, Centro, Cuauhtémoc, 06050 Ciudad de México, CDMX
What is the duration of the tour?
What is the group size for this tour?
For shared tours, the maximum group number will be 12 passengers. For private tours, there must be a minimum of 2 passengers. A solo traveller may still book a private experience, but they will be charged a base rate for two travellers.
Are there any Covid-19 vaccination requirements?
While we strongly recommend that all travellers are vaccinated against COVID-19 to reduce the risk of transmission and avoid putting undue strain on healthcare services, vaccinations are not a requirement to join an Intrepid Urban Adventures tour. For further information, please review COVID-19 Health & Safety at https://www.urbanadventures.com/en/about-us/covid-19-customer-info
Can I cancel my tour?
Free cancellation up to 24 hours before activity.
What if I can't find my guide?
If you have any issues on the day of your tour, please call +506 6022 4721
MORE INFORMATION
Local Impact: How you will help the local community by joining this tour:
On this tour, you will learn about the socio-political history of Mexico, support independent market vendors, and experience real connections by meeting with a local family.
For Mexico City residents, markets offer a one-stop-shop for groceries, flowers, household items, prepared foods, and even clothing. Being such an important part of daily life, some markets have also become a showcase of politics and culture. Your first stop on your Mexico City tour is a relatively unknown market that boasts a large art collection depicting the political movement from the first half of the 1900s. Your guide will explain the importance of the murals and bridge the gap between the political movement of that period with what is going on in today's Mexico. To reach our second market you'll travel the city just like the locals do, by riding the public metro. This market boasts an unmatched selection of flowers – you'll be mesmerised by the variety and by the vendors, who will be all too happy to help you match the perfect bouquet to your eye colour. You'll also find fruits, herbs, meat, fish, pinatas, and more, all for sale among the various stalls – no matter what you're shopping for, you're in the right place. And that could even include romance! If you're looking for love, you might even find a love potion available amid all the goods! Along the way, you'll also get to sample some classic Mexican street foods, such as tacos and tamales, along with a coffee or atole – a traditional warm drink made from masa. After buying some fresh vegetables (and learning about local farming practices), head over to a local family business, where you'll learn how to prepare your own salsa. Together, you'll wash, cut and grill the ingredients, then smash them in the traditional way, using a molcajete (mortar and pestle). Taste your homemade salsa with a classic huarache.