Mexico City Teotihuacan Pyramids Adventure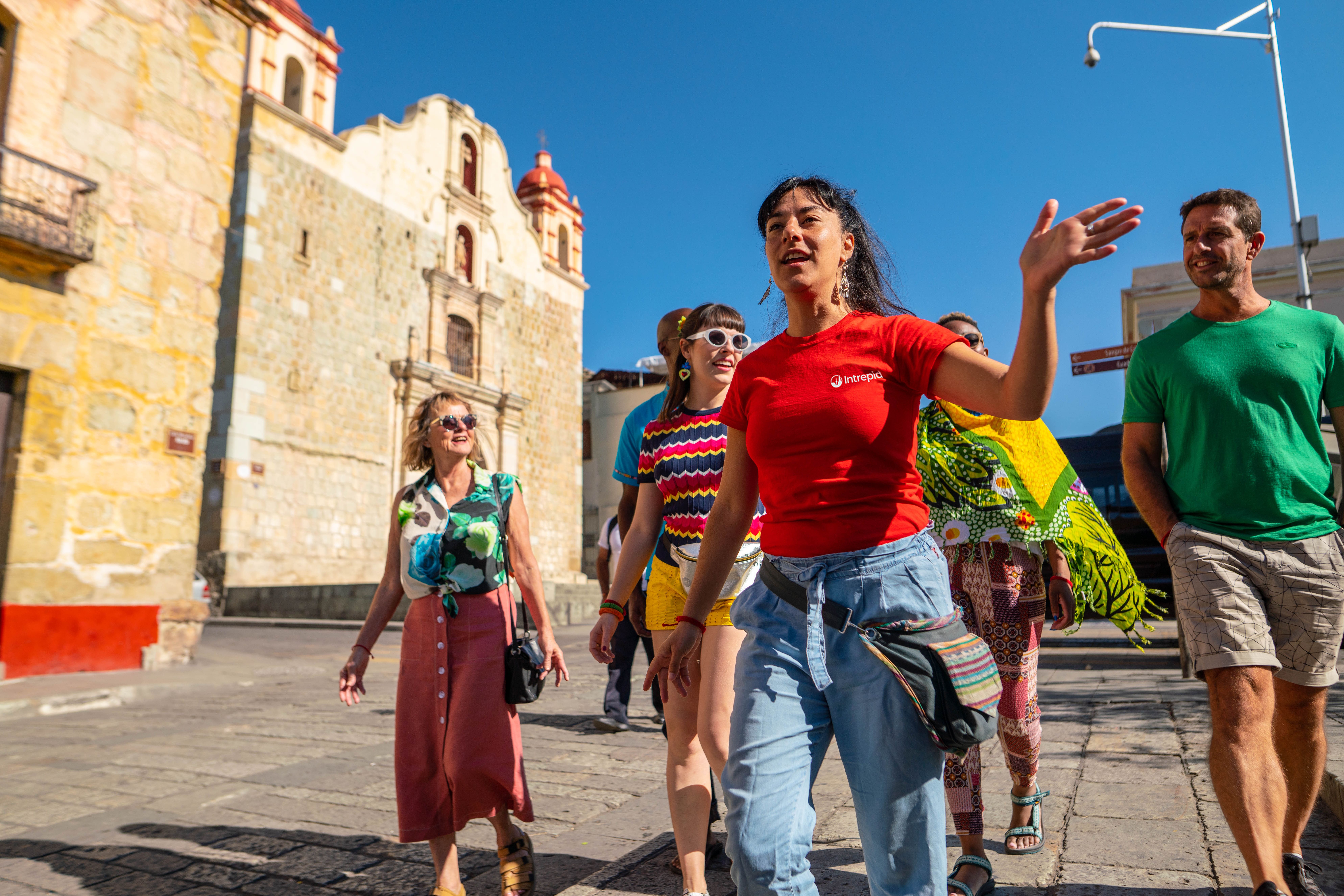 TOUR DESCRIPTION
Brace yourself for a BIG day full of all things Mexican on this Mexico City tour to sample local delights like cactus candy, climb to the top of the Quetzalcoatl pyramid, sip on sacred ancient traditional drinks, and dine at a local family home a delicious meal made by them with locally sourced ingredients …all in 8 hours of power-touring! Phew Experience the best travel stories for yourself.
Highlights


Head out of Mexico City to learn about Teotihuacan culture, from pre-Hispanic pyramids through to modern handicrafts


Recharge your energy at the top of the spectacular Quetzalcoatl pyramid


Explore a local town and visit 2 independently-run family businesses


Sample jams, sweets, spicy sauces, agave syrup, and more made out of different varieties of cactus, as well as the sacred ancient drink of 'pulque'


Finish your day with a delicious lunch in a Mexican family home, with food straight from local organic farms


Local English-speaking guide
All day public bus transportation
Entrance fee to the pyramids
Visit to two sustainable family projects
Samples of cactus products
Lunch at a local family's home.
Drinks
Gratuities for locals and UA guide
Important Information
What is included in the tour
Local English-speaking guide, all day public bus transportation, food samples, entrance fee to the pyramids, visit to two sustainable family projects, samples of cactus products, lunch at a local family's home.
Where do we meet?
Mexico City Fine Arts Museum, Av. Juárez S/N, Centro Histórico Cuauhtémoc, 06050 CDMX
Where does the tour end?
Mexico City Fine Arts Museum, Av. Juárez S/N, Centro Histórico Cuauhtémoc, 06050 CDMX
What is the duration of the tour?
What is group size of this tour?
The maximum number of people on this tour will be 12 passengers.
What If I have Particular Dietary Requirements?
Vegetarian, Vegan, or Gluten Free options are available on this tour, but please let us know in advance if you have any dietary requirements.
Are there any Covid-19 vaccination requirements?
While we strongly recommend that all travellers are vaccinated against COVID-19 to reduce the risk of transmission and avoid putting undue strain on healthcare services, vaccinations are not a requirement to join an Intrepid Urban Adventures tour. For further information, please review COVID-19 Health & Safety at https://www.urbanadventures.com/en/about-us/covid-19-customer-info
What if I can't find my guide?
If you have any issues on the day of your tour, please call +506 6022 4721
Can I cancel my tour?
Free cancellation up to 24 hours before activity
MORE INFORMATION
Local Impact: How you will help the local community by joining this tour:
By visiting and paying an entrance fee to Pyramids, this tour helps preserve the local historical heritage.
You'll visit a local family in the area on the way to the Pyramids to gain an insight into local life in the area. Part of your tour fee is used to directly support the family,
By taking multiple public busses we are taking the most efficient route for each ride, that is picking up as many passengers as possible along the way.
This full day Mexico City tour will give you an incredibly in-depth local experience, from the bustle of the city to the peace of the suburbs and the serenity of Teotihuacan on the outskirts of the city. We will meet at the Fine Arts Museum where we will take a public electric bus to the North Bus Station. The ride will take around 20 min. There we will need to wait for a bus (around 20 min) that will take us to the Pyramids. After 90 minutes of the countryside ride we'll begin by experiencing the Teotihuacan Pyramids, "where the men become gods". Walking through the Teotihuacan Pyramids is like taking a step back in time. We'll begin our visit at the impressive Moon Pyramid, with a guided Teotihuacan tour to learn about the history, meaning, and architecture of one of the most representative icons of Latin America. Our exploration continues with a walk through the Calzada de los Muertos (Dead Pass) to reach the Sun Pyramid, which is the tallest and most spectacular in the area. Across the Pyramid of the Moon stands La Ciudadela (the Citadel), a large ceremonial courtyard that contains the Temple of Quetzalcoatl. We will have the chance to climb up to the top - without the morning crowds, we'll have the whole temple to ourselves! Once on top you will feel the amazing energy that flows through the pyramids, and you will feel fully recharged and peaceful! You will have some time to relax and enjoy the pyramids before we continue our walking tour through the streets of a local town and make two stops that will give you a deeper understanding of the local way of life outside the big cities. We will visit a local family and discover that cactus is an important cultural and historical symbol in Mexico. It might surprise you to learn that cactus is a staple in Mexican cuisine! The cherry on top of our big day will be lunch! We'll be welcomed into a local family's home to see how locals live outside Mexico City. Here, we'll enjoy some real local flavours of typical Mexican kitchens served by one or two of the family members. For lunch you can expect a main meal: chicken with cactus, potatoes, rice, and tlacoyo. Products are straight from local organic farms. Delicious! After lunch, we'll head back to Mexico City, happy, full, and enriched from our exciting day exploring local life, ancient pyramids, and delicious food!
Please note that it is not allowed to climb the pyramids. We will climb just the last one - Quetzalcoatl.
Please note that this tour covers about 6 km of walking and can be quite strenuous for travellers who are not used to walk. We recommend this tour for guests who have at least a medium level of fitness ability.
We reserve the right to change both the route and places visited within the tour. Food inclusions are subject to change, dependent on availability on the day.