Private Bangkok Tour: Beyond Market Adventure: Railway & Floating Markets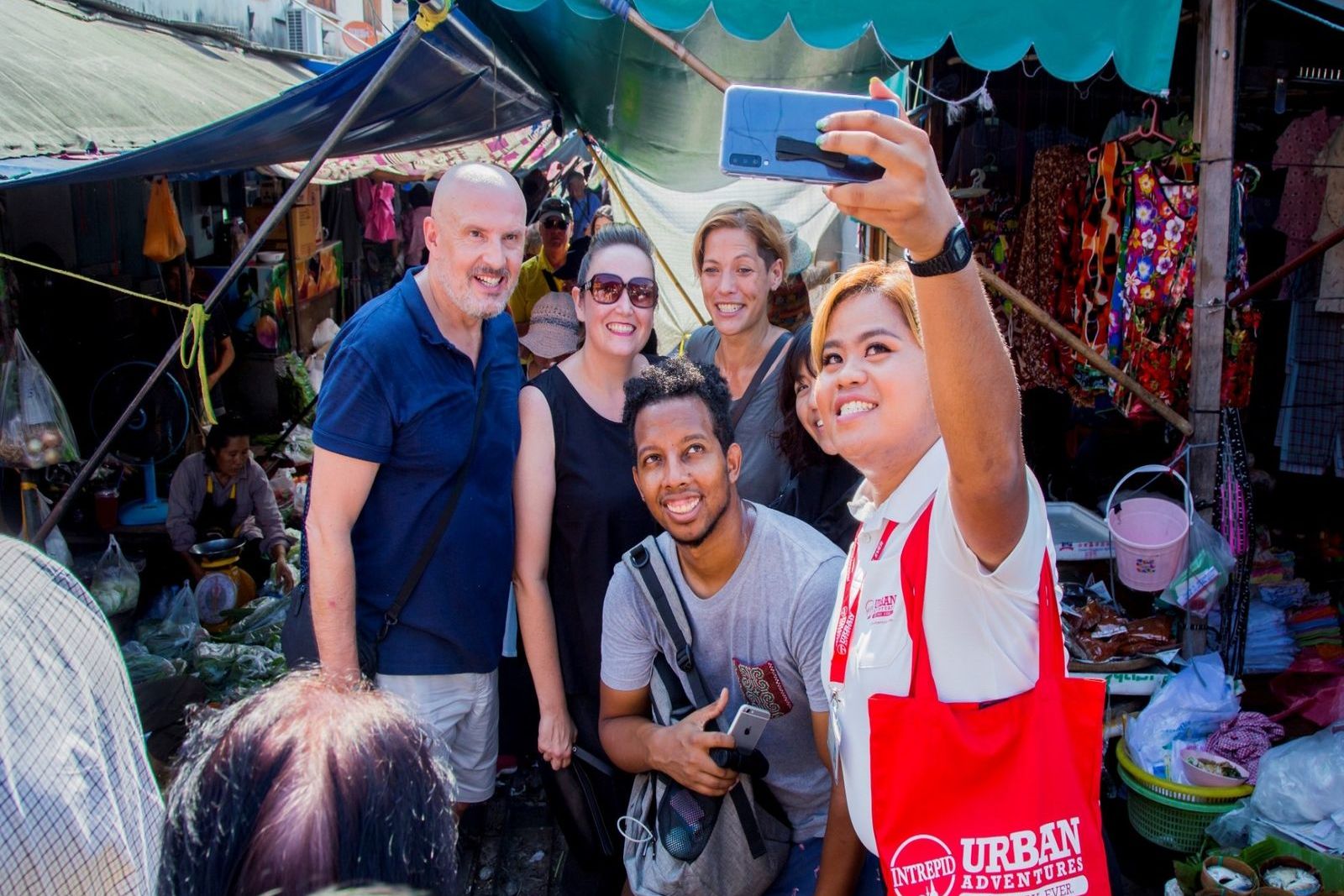 TOUR DESCRIPTION
Get out of town! Escape the bustle of Bangkok to visit one of the must-see sites of Thailand: a floating market! Sail the canals of Damnoen Saduak and shop for souvenirs, Thai treats and other goods from the vendors who sell their wares from boats and along the riverbank. You'll also visit the see-it-to-believe-it Railway Market, where an active train track is a makeshift shopping strip, plus discover how to make palm sugar the old-fashioned way, from a local at their countryside plantation home.
Highlights


Explore the famous Damnoen Saduak floating market, where you can try delicious local treats and tasty seasonal fruits


See local life along the water while riding a small boat through village canals


Watch how local vendors set up shop along the tracks — and pack up when a train comes! — at the Maeklong Railway Market


Learn how to make palm sugar, one of the key ingredients of traditional Thai cooking, at a local family-run village plantation


Local English-speaking guide
Private transportation during the tour
Boat ride
Damnoen saduak floating market visit
Palm sugar plantation visit
A light snack
Seasonal fruits
Additional food and drink
Tips/gratuities for your guide and driver
Important Information
What is included in the tour?
Local English-speaking guide, Private transportation during the tour, boat ride, Damnoen saduak floating market visit, palm sugar plantation visit, a light snack, seasonal fruits
What isn't included in the tour?
Additional food and drink, tips/gratuities for your guide and driver
Where do we meet?
The lobby of Lub D Siam Hostel 925/9 Rama 1 Rd. Wangmai, Pathum Wan, Bangkok. Address in Thai for taxis: 925, 9 ถนน พระรามที่ ๑ แขวง วังใหม่ เขต ปทุมวัน กรุงเทพมหานคร 10330;
Where does the tour end?
The lobby of Lub D Siam Hostel 925/9 Rama 1 Rd. Wangmai, Pathum Wan, Bangkok.
What is the duration of the tour?
What is the minimum group size for the private tour?
The private tour is priced for a minimum group size of two travellers. A solo traveller may still book this private experience but will be charged the base rate for two travellers.
Are there any Covid-19 vaccination requirements?
While we strongly recommend that all travellers are vaccinated against COVID-19 to reduce the risk of transmission and avoid putting undue strain on healthcare services, vaccinations are not a requirement to join an Intrepid Urban Adventures tour. For further information, please review COVID-19 Health & Safety at https://www.urbanadventures.com/en/about-us/covid-19-customer-info
What if I can't find my guide?
If you have any issues on the day of your tour, please call +66 81 842 3554
Can I cancel my tour?
Free cancellation up to 24 hours before activity.
MORE INFORMATION
Local Impact: How you will help the local community by joining this tour:
Instead of visiting one of the many palm sugar plantations that have been set up for tourists to see and learn about the process, we visit a local family at their village plantation where they make palm sugar daily throughout the year. The family has been here for generations and bringing our small groups provides some additional income for them.
The Damnoen Saduak floating market is one of the most popular sites to see in Thailand and for good reason! Some call this area the Venice of the East, where vendors sell their goods from boats and stalls set up along the water's edge of this unique market. In the mid-1800s, to help locals journeying between towns, Thai King Rama IV and his son, King Rama V, commissioned a 32-kilometer canal connecting two rivers together: the Mae Krong river and Tha Cheen River. The name of this man-made canal is Damnoen Saduak, which means "convenience journey" in Thai. You'll start your private tour with a drive-by private vehicle to the railway market, about two hours from Bangkok. Please be on time for your tour! We'll need to leave at 6:30 am sharp or you'll miss the excitement at the surreal railway market. And trust us, you need to see it to believe it! Vendors set up their goods along active railway tracks, with fresh produce, fabrics, cooking supplies, and more all lined up a mere few inches from the track's edge (and in some cases, right on top of the tracks). You'll get to see what happens when the train comes through: vendors gather up their things and lower their canopies, and both vendors and shoppers step aside as the train travels right through the middle of the market. Once the train leaves, business resumes as though nothing had disrupted them! Between the train schedule, your guide will lead you around the market and introduce you to traditional Thai foods, from desserts to snacks to fresh fruits.  We'll then continue on a short drive to a palm sugar plantation, where we'll visit the house of a villager who still makes palm sugar the traditional way. There are a lot of coconut palm tree plantations in Thailand, and the local wisdom of making organic palm sugar from the nectar of coconut flowers has been passed down from generation to generation. Onward, we'll board a small boat for a ride through narrow village canals, to reach the famous floating market of Damnoen Saduak — keep your camera ready as this place is a non-stop photo op. If anything catches your eye along your boat ride, let your guide know and you can stop to chat with vendors and purchase something to take home (or to eat right there!). We'll then depart the boat and walk around to explore more of the market. You'll find a variety of Thai foods, such as seasonal tropical fruits from local orchards, as well as souvenirs, all available on both river banks. Around noon, we'll head back to Bangkok and return you to the meeting point which is right next to BTS (Skytrain) station National Stadium. Your local guide will be happy to give you directions back to your accommodation or to other sites you should see.