Experience Bangkok's Temples & River of Kings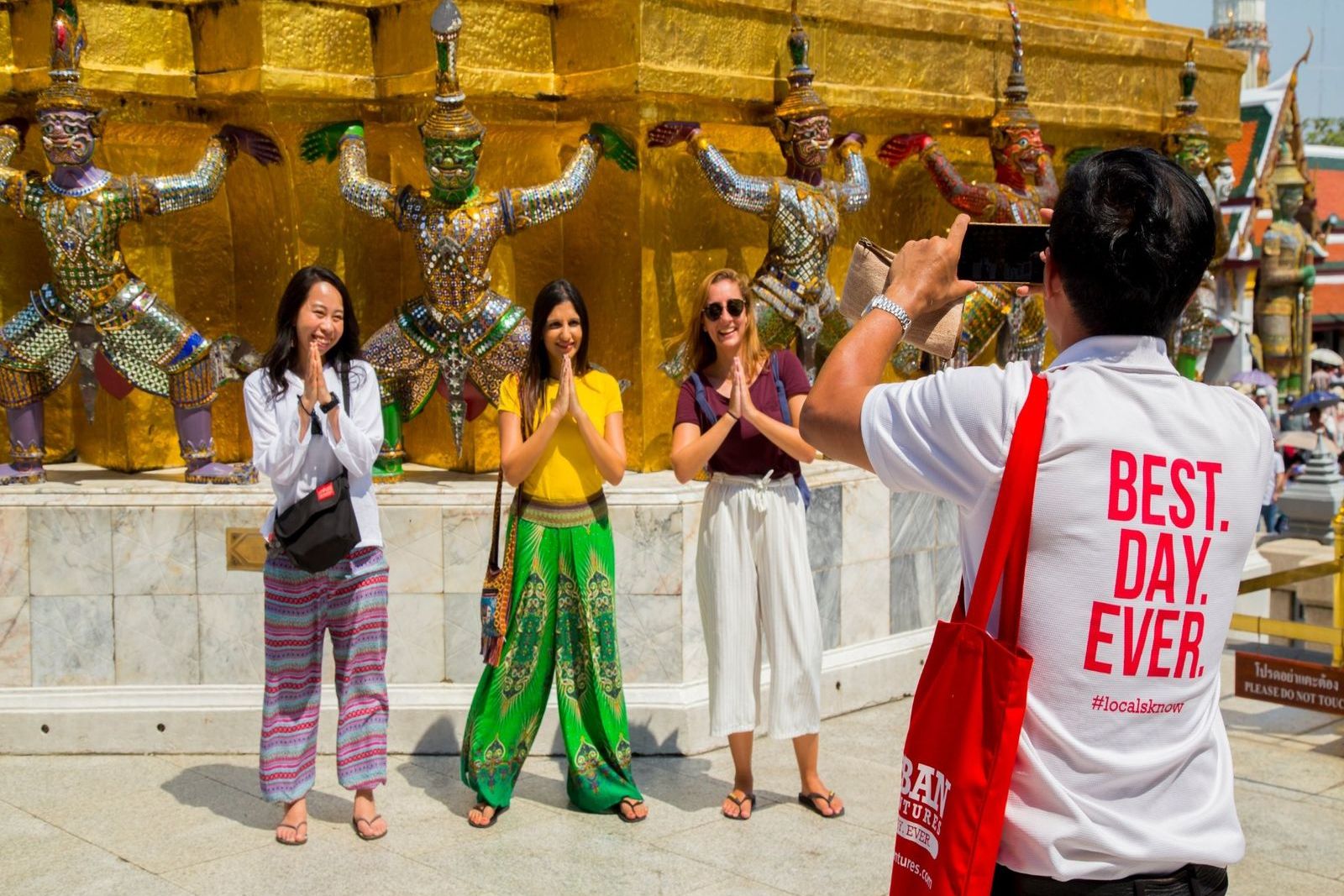 TOUR DESCRIPTION
In between the skyscrapers, towers, traffic and buzz of humanity, Bangkok hides a secret: a network of waterways that you can travel on without the stress of fighting traffic. Join this Bangkok tour to ride a longtail boat along the canals to see another side of Thailand's relentless capital.   
Highlights


Feel like a king on the River of Kings, gliding through the waters of the Chao Phraya River on a longtail boat


Experience famous sights and hidden gems through the eyes of a local


Prepare to be wowed by Bangkok's Temple of the Reclining Buddha, Wat Pho
Marvel at the dazzling Grand Palace and revered Emerald Buddha at Wat Phra Kaew


Discover secret Thai communities that live amongst the 'khlongs' or canals



Local English-speaking guide
Longtail boat ride down the river of kings
Wat pra kaew
Grand palace and wat pho entrance fee
Drop off transfer
Tips/gratuities for drivers or guide
Important Information
What is included in the tour
Local English-speaking guide, a longtail boat ride down the river of kings, Wat pra kaew, Grand palace and wat pho entrance fee
What isn't included in the tour
Drop off transfer, tips/gratuities for drivers or guide
Where do we meet?
Inside Sanam Chai MRT station at the bottom of the escalators of Exit 1 (Museum Siam). If you come by taxi please enter the MRT station in the grounds of Museum Siam and go down 2 sets of escalators
Where does the tour end?
What is the duration of the tour?
What is the group size for this tour?
For shared tours, the maximum group number will be 12 passengers. For private tours, there must be a minimum of 2 passengers. A solo traveller may still book a private experience, but they will be charged a base rate for two travellers.
Are there any Covid-19 vaccination requirements?
While we strongly recommend that all travellers are vaccinated against COVID-19 to reduce the risk of transmission and avoid putting undue strain on healthcare services, vaccinations are not a requirement to join an Intrepid Urban Adventures tour. For further information, please review COVID-19 Health & Safety at https://www.urbanadventures.com/en/about-us/covid-19-customer-info
What if I can't find my guide?
If you have any issues on the day of your tour, please call +66 81 842 3554
Can I cancel my tour?
Free cancellation up to 24 hours before activity.
MORE INFORMATION
Local Impact: How you will help the local community by joining this tour:
This tour hires local longtail boatmen who own their own boats directly. These boatmen rely on tourism to supplement their income as modern transport routes mean fewer locals need to use their boats.
Forget your guidebook — the real stuff comes from the mouths of the locals! Explore some famous landmarks as well as hidden gems on this Bangkok day tour that takes you through the city by boat and on foot. You'll begin this Bangkok tour by walking to the pier, where you'll board a longtail boat down the Chao Phraya River, also known as the River of Kings. The name of the river perfectly reflects this part of the tour; you'll feel like royalty on your relaxing journey! This river is also the reason why Bangkok is known as the 'Venice of the East,' and you'll explore this nickname further as you glide through the network of khlongs, or canals. Many of the khlongs have been filled in over the years and converted into roads. These roads have turned into little Thai communities, and as you swoop through the waters you'll discover insights into these neighbourhoods. This area of Bangkok feels like a world away from the busy streets and chaos, and a welcome break from the bustling city centre! You'll continue by heading over to the Grand Palace. Strolling through the palace grounds feels like walking through an Asian version of Alice in Wonderland — the buildings are so beautiful they almost don't feel real. But bet your bottom dollar, they're real alright! Your local guide will tell you all about the history behind the palace and the most sacred Buddhist temple in Thailand, Wat Phra Kaew. This place is considered to be the spiritual centre of the nation, making it a visit that you cannot afford to miss. From one beautiful temple to another, you'll move on to Wat Pho, another temple that is integral to the Buddhist religion in Thailand. It's home to the famous golden reclining Buddha and is the birthplace of traditional Thai massage. This is one of the most popular things to do in Bangkok, and with our local guide to take your through the temples, you'll hear all the secret stories and local knowledge about the place. Your tour will finish up at Wat Pho, from where you can continue to explore, or your local guide will be happy to give you directions back to your accommodation. This tour shows you a truly unique side of the city that you won't find on any of the other day tours in Bangkok, and it gives you the opportunity to visit both famous sights and hidden spots, exploring them through the eyes of a local.