Bucharest Beer Tasting Experience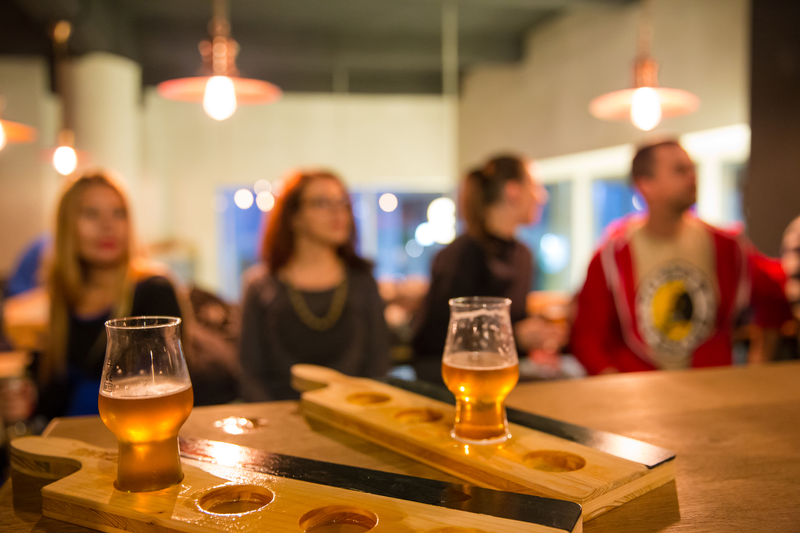 TOUR DESCRIPTION
Fasten your seatbelts! You're about to take a journey into the heart of 'Little Paris,' a nickname that indicates just how dreamily grandiose the architecture of Bucharest can be. We'll show you the city's top historical sites and tell you a few tales of life behind the Iron Curtain. And did we mention that you're going to experience all this whilst getting your beer on?! All the best craft beers and local brands will be handed to you with a friendly smile from your local guide as we frequent some of the best beer joints in the city. History and beer?! You can thank us later…
Sample the best local beers in Bucharest and learn a bit about the brewing process
Discover the city's historical highlights, pretty squares, and striking architecture with a local guide by your side
Hear tales of what daily life was like during the Communist era and how it compares to today
Try the local's favourite cuisine
Enjoy a deliciously authentic street food snack from one of our favourite local vendors
Local English-speaking guide
3 Beer and 2 Food Stops
Amzei Market Stop (traditional Romanian street pastry)
3 Craft Beer Bar Stops (flight of local craft beers - 4 glasses of 150ml each, 2 draft beers of 400 ml each)
Please note: On one of the beer stops there will be a local traditional snack that will vary depending on the season and where we stop that day
Additional food and drinks
Tips/gratuities for your guide
Important Information
What is included in the tour?
Local English-speaking guide, 3 Beer and 2 Food Stops; Amzei Market Stop (traditional Romanian street pastry), 3 Craft Beer Bar Stops (flight of local craft beers - 4 glasses of 150ml each, 2 draft beers of 400 ml each)
Please note: On one of the beer stops there will be a local traditional snack that will vary depending on the season and where we stop that day
What isn't included in the tour
Additional food and drinks, tips/gratuities for your guide
Where do we meet?
In front of KFC Piata Romana, in Roman Square
Where does the tour end?
Is there any child policy for this tour?
Travellers under 18 years of age are not permitted to join this tour.. Please note that alcoholic beverages may only be consumed by persons aged 18 years and up. Travellers may be required to show ID.
What is the duration of the tour?
Are there any Covid-19 vaccination requirements?
Travelers 18+ must show proof of COVID-19 vaccination. Children 6-17 must present a negative COVID-19 test (PCR or lateral flow) conducted a maximum of 72 hours prior, proof of recovery dated up to 9 months, or proof of vaccination. For further information, please review COVID-19 Health & Safety at https://intrepid-ua.ventrata.com/en/about-us/covid-19-customer-info.
Can I cancel my tour?
Free cancellation up to 24 hours before activity.
MORE INFORMATION
They say that beer makes history better and we think that you will agree by the end of this tour! Whether this is your first time in Bucharest or your tenth, we're confident that we've come up with the most fun way to discover our beautiful city. Your tour begins in Romana Square (Piata Romana), where you will meet your local guide. Following a brief description of the area, we will make our way, passing by Amzei Market, to our first stop to meet a local street vendor where we'll sample a traditional Romanian street pastry. Next up, we'll head over to one of our favorite craft beer bars, just a short walk away. While indulging in a flight of four local craft beers, we'll chat about the brewing processes and about the passion that goes into beer-making in Romania. Throughout the tour, we'll talk about the up-and-coming craft beer scene in Romania and introduce you to our local history and culture with a carefully curated assortment of tales that are sure to get you to bang up to date! Now, with our beer buzz setting in, we will continue our walk down Victory Avenue, home to many of Bucharest's most important landmarks, such as the Revolution Square, which boasts a mix of royal and communist influences, perfectly reflecting the city's complicated past. Next on our agenda is another hidden gem in a historical location with a great atmosphere that you're sure to love. Here, we shall continue with our stories and local beer exploration as we taste one of the oldest beer brands in Romania. On route, you will discover intriguing sights, such as the former National Theatre of Bucharest, the former Headquarters of the Communist Party, one of the oldest churches in Bucharest, Kretzulescu Church, and the University Square with its superb late 19th-century architecture. Our last stop will vary between cold and hot seasons. With so many good options it's hard to choose even for us. Either a famous spot for a Transylvanian beer or a truly hidden gem from Old Town or even the very own beer garden operated by the most popular craft beer brand in Bucharest. And we haven't forgotten about food either. We'll make sure to add some solid nourishment for best pairing with our beer selections. Our tour ends here but before you go, don't forget to ask your local guide for tips on what else to see, do and eat during your stay.