Denver Cocktail Tour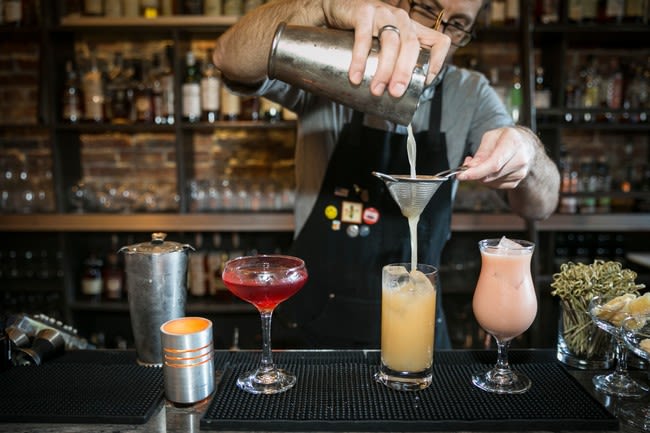 TOUR DESCRIPTION
Denver is a fascinating cocktail of culture, history, and, well…cocktails! See the city through a local lens on this spirited walking tour, visiting local hangouts and sampling Denver's favorite drinks. Join a guide to explore the trendy Larimer Square and Lower Downtown neighborhood, walk historic streets, and duck into bars and modern-day speakeasies to learn the stories behind local and international cocktails (and taste a few, too!).
Highlights


See the city through the eyes of a local as you explore Denver with a resident guide, eager to show you their favorite drinking establishments.


Bottoms up! Deep dive into Denver's vibrant cocktail scene, sampling the city's best drinks, from local twists to international classics.


Learn about Denver's cocktails and how they fit into the history of the city, from its foundation, through the prohibition era until now.


Explore Denver's lively Lower Downtown neighborhood, taking in its historic streets and trendy bars, picking up recommendations for the rest of your trip.


Local English-speaking guide.
Three handcrafted cocktails
Light local snack
Additional Food and Drinks
Gratuity for the guide
Important Information
What is included in the tour?
Local English-speaking guide, three handcrafted cocktails, light local snack.
We can accommodate vegetarians, vegans, gluten-free, and other dietary restrictions. Please notify us in advance if you have any dietary requests.
What isn't included in the tour?
Additional Food and Drinks, gratuity for the guide.
Where do we meet?
1701 Wynkoop St., Denver, CO 80202- (Union Station, Wynkoop St.)
Where does the tour end?
1701 Wynkoop St., Denver, CO 80202- (Union Station, Wynkoop St.)
What is the duration of the tour?
What is the group size of this tour?
The maximum number of people on this tour will be 12 passengers.
What if I can't find my guide?
If you have any issues on the day of your tour, please call +1(720) 295-5060
Can I cancel my tour?
Free cancellation up to 24 hours before activity.
MORE INFORMATION
Our Denver adventure begins at the heart of the city, Union Station. Your local guide will fill you in on the early days of the 'Mile High City' and its history with alcohol, through the prohibition era to now. From here we'll head into the Lower Downtown neighborhood, known as LoDo. Here you'll find Larimer Square, the city's first block, first commercial district, and home to its first residence and first city hall. Despite all this history, the area is brimming with trendy bars and restaurants and remains a popular meeting place today. Follow your guide through the historic streets lined with old brick buildings. They'll show you some of their favourite spots – you might wet your whistle in one of Denver's oldest bars, or head underground into a cozy speakeasy for a taste of the old days and a chance to learn about the city's founding pioneers. While you're soaking up the atmosphere of each establishment and tasting Denver's best beverages, your guide will let you in on the ingredients and history of each drink. From local favorites to international recipes, you'll soon see that Denver's cocktail scene is as diverse as it is delicious. You may get the chance to try some local twists on time-honoured classics, and your guide will dispel the myths and shed some light on controversies surrounding some of the most popular drinks on the menu. This spirited tour will make it clear why Denver is regarded as one of the world's hotspots for cocktails, and you'll leave with a deeper understanding and appreciation of the city, its history, and its craft cocktail scene. If you're spending more time in Denver after your tour, your guide will have great tips on where to eat and drink in Larimer Square, LoDo and beyond, so be sure to pick their brain before your finish!
We reserve the right to change both the route and places visited within the tour. Additional information: Please remember to bring a government-issued photo-ID with you (driver's license, passport, or other similar ID)