Cicchetti & Wine Tour of Venice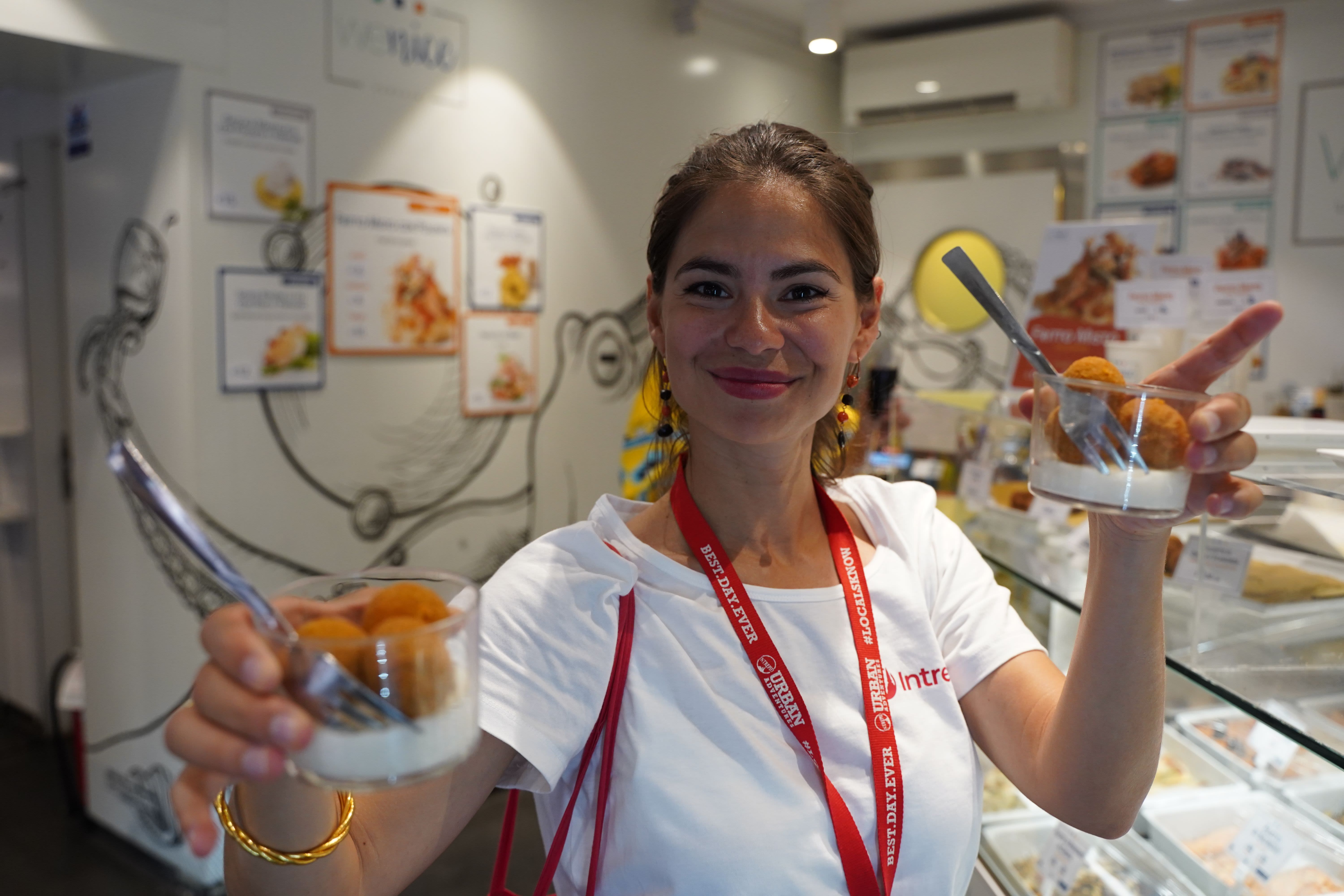 TOUR DESCRIPTION
Join us for a tasty initiation into Venetian culture and discover some of the city's top highlights, alongside a few hidden spots that only the locals know about! Learn the secrets of the Italian aperitivo, try some of the best wines from the Veneto and taste traditional local dishes on an Italian adventure you'll never forget.
Highlights


Discover magical Venice with a local by your side


Drink like a Venetian at some of our favourite and most authentic bacari wine bars


Cross the famous canal on a traghetto gondola like the locals do and explore the heart of the city: Rialto.


Taste flavoursome regional wines and mouth-watering local cuisine


Get the lowdown on Venice and discover the secrets of the iconic and oh-so-Italian aperitivo, vino in hand


Local English-speaking guide
Food (7 Cicchetti dishes and 1 dessert)
Wine (5 glasses of wine)
Venetian Spritz
Traghetto gondola crossing
Travel advice for your days in Venice
Tips or gratuities for guide
Important Information
What is included in the tour?
Local English-speaking guide, food, and wine (5 glasses of wine, Venetian Spritz, 7 Cicchetti dishes, 1 dessert), Traghetto gondola crossing, and travel advice for your days in Venice
What isn't included in the tour?
Tips or gratuities for the guide
Where do we meet?
Infront of Church of the Maddalena on the Maddalena Square, Cannaregio, Venezia
Where does the tour end?
Campo San Bortolomio, Venice
What is the duration of the tour?
What is the group size of this tour?
The maximum number of people on this tour will be 12 passengers.
Are there any Covid-19 vaccination requirements?
While we strongly recommend that all travellers are vaccinated against COVID-19 to reduce the risk of transmission and avoid putting undue strain on healthcare services, vaccinations are not a requirement to join an Intrepid Urban Adventures tour. For further information, please review COVID-19 Health & Safety at https://www.urbanadventures.com/en/about-us/covid-19-customer-info
What if I can't find my guide?
If you have any issues on the day of your tour, please call +49 802 446 795 41
Can I cancel my tour?
Free cancellation up to 24 hours before activity.
MORE INFORMATION
Local Impact: How you taking this tour will benefit the local community:
All the stores and foodie spots we visit are 100% owned and run by locals, ensuring that the local population benefit from tourism to their city. So any inclusions on the tour and additional purchases you make will directly benefit the local community.
We will take you off the main tourist trail to some of the many hidden gem neighbourhoods beyond St Mark's Square, helping to ease tourist congestion,
You will pick up some responsible travel tips that will help you to be a greener traveller while you're in the city
This tour is the perfect introduction to Venice, giving you an overview of the city's unrivalled history and a taster of its world-famous cuisine. Your adventure begins in the Cannaregio neighbourhood, one of the few remaining residential areas of Venice, known for being a popular after-work meeting spot for thirsty locals. We will take a gentle stroll around and chat about its 1,000-year history and your local guide will offer suggestions on other things to see and do during your stay. A ride in a traditional, stand-up traghetto gondola is next as we cross the Grand Canal the way the locals do. Once in Rialto, the food tasting can begin! We will try some fresh fish at a small eatery, owned by a group of young locals with a passion for experimenting with traditional recipes, giving them a modern twist. Expect dishes such as black ink calamari, fried mix fish, polenta with seafood, tuna balls with tomatoes or seasonal vegetables (served in elaborate dishes). All the fresh fish served is coming from the Rialto market, a large fruit and vegetable market in the centre of Venice. After mouth-watering tastings, we will head to the few local spots that will help you better understand the culture of Cicchetti bars in Venice and how to enjoy food and wine experience. We will introduce you a new bar, owned by two Venetian brother with passion for locally sourced food and wine, and at this stop you will taste a local sandwich called `tramezzino` and very local `Venetian Spritz`. Moving forward you will try dishes such as Creamy Dried Codfish Baccalà or stockfish (dried cod), arrived in Venice in the 15th century thanks to Captain Querini. Here we will have a chance to try this traditional local recipe. Expect cod cooked in two different ways. Let us know, which one you prefer most? A few secrets and hidden spots near the Rialto are up next, which will demonstrate the importance of moving just one street away from the tourist hordes, to get a little slice of Venice to yourself. Expect meet and cheese Cicchetti in one of the spots and Lasagna or Risotto or Pasta in the other. Finish with well-deserved desert – Tiramisu. The tour will end at Campo San Bortolomio, which is surrounded by great restaurants and shops. Your guide will be happy to help you with recommendations for continuing the fun or with directions to help you back to your accommodation.
This tour features visits to establishments that are not always able to cater for vegetarians and other dietary requirements. Discounts are available and your guide can assist you with recommendations on where to purchase alternative diet-friendly food during the tour.
There may be a change of itinerary according to opening times of bars and restaurants along the way depending on how crowded they are. However, all the bars you are taken to are of the same standard, so you will not be missing out if the itinerary does change. Food inclusions are subject to change, dependent on availability on the day.
In case of bad weather, we will not be able to cross the canal in the traghetto gondola due to safety reasons. However, we provide an additional tasting.