Madrid Tapas Adventure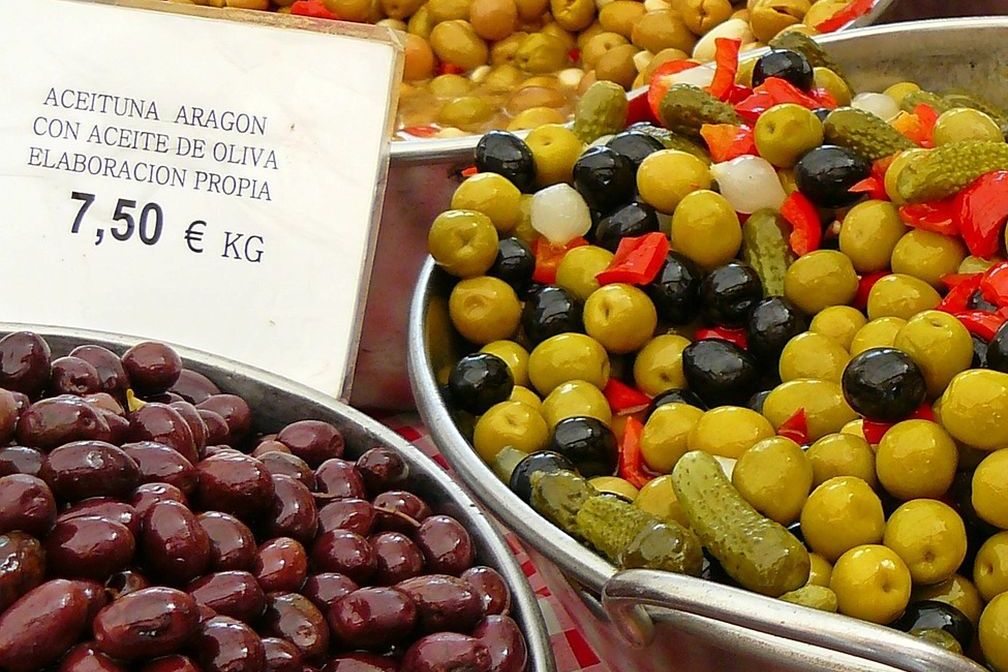 TOUR DESCRIPTION
Fact: Spanish people love to eat. If you want to experience the real Madrid, take a tip from us: do as the locals do and nibble and chomp your way through the city. From Madrid's oldest taverns to its modern hip hangouts, this is your chance to indulge in the most delectable cuisine – tapas. And hey, we'll even teach you some pro tapas tips along the way, the ultimate souvenir to take home with you! Start practicing your humble brag…
Highlights


Visit the first tapas market in the country and learn all about the importance of Spanish market culture


Get an introduction to the traditions of the Spanish aperitivo with a traditional vermouth and olive tasting


Taste traditional recipes with a modern twist in a tiny gourmet tapas bar owned by two dedicated sommeliers (that's wine experts to you and me)


Discover the oldest parts of Madrid and stop at some of our favourite heritage taverns to try the house dish in each of them, including the best croquettes in the entire city!


Stroll around the trendy neighbourhood of La Latina and soak up the historic vibes and breathtaking architecture of the old city centre too


Local English-speaking guide
1 drink and 1 tapas dish at each stop (5 tastings stops - including a cheese and olive tasting, a bocadillo de calamares sandwich, a croquette tasting and a Spanish dessert)
5 alcoholic drinks and 1 hot drink
Additional food and drink
Tips and gratuities for your guide
Important Information
What is included in the tour?
Local English-speaking guide, 1 drink, and 1 tapas dish at each stop (5 tastings stops - including a cheese and olive tasting, a bocadillo de calamares sandwich, a croquette tasting, and a Spanish dessert), 5 alcoholic drinks and 1 hot drink
What isn't included in the tour?
Additional food and drink, and gratuities for your guide
Where do we meet?
Plaza de la Villa, at the statue in the middle of the square. Your guide will be holding an Urban Adventures sign
Where does the tour end?
What is the duration of the tour?
What is the minimum group size for the private tour?
The private tour is priced for a minimum group size of two travellers. A solo traveller may still book the private experience but will be charged the base rate for two travellers.
Are there any Covid-19 vaccination requirements?
While we strongly recommend that all travellers are vaccinated against COVID-19 to reduce the risk of transmission and avoid putting undue strain on healthcare services, vaccinations are not a requirement to join an Intrepid Urban Adventures tour. For further information, please review COVID-19 Health & Safety at https://www.urbanadventures.com/en/about-us/covid-19-customer-info
What if I can't find my guide?
If you have any issues on the day of your tour, please call +34 677 61 80 87
Can I cancel my tour?
Free cancellation up to 24 hours before activity.
MORE INFORMATION
Your tapas adventure begins in Plaza de la Villa, the old main square in central Madrid. After a brief introduction to the city and its tapas credentials, we'll head towards Mercado de San Miguel, the first gourmet market in all of Spain, for the first of many food tastings. Here we'll start with an aperitivo, what else?! We'll try traditional vermouth and we'll taste some of Spain's most succulent olives too.  Spain is a well-known cheese producing nation, offering the world such cheesy delights as manchego, mahonand idizabal. We'll try some delicious Spanish cheese, alongsidea glass of wine of course at one of the best cheese stalls in the market.  Next, we'll head to the pulsating barrio of La Latina to explore its narrow lanes and fascinating history. This neighbourhood is ultra trendy right now and is popular with locals for its vibrant food and drink scene. We will visit a tiny, off the beaten path restaurant that is well known for their traditional tapas dishes - with a fusion twist. This tiny spot only has 6 tables so it's always busy and it has a great atmosphere!  From there, we will head back to the oldest part of Madrid, as we walk we'll continue to chat about the city's history and food culture and your guide will point out some artisanal stores where you can pick up authentic, handmade souvenirs made by locals. If there's time and the group are interested, we'll make a quick stop at one of these shops.   Our next stop, right in the heart of Plaza Mayor is to try the iconic bocadillo de calamares, the famous sandwich of the city. To wash it down, we'll try some local beer too! Back on the streets, your local guide will point out interesting sights and alternative food and drink stops for you to explore on your own as we head to our penultimate foodie highlight of the day.  Does it get much better than croquettes?! The perfect snack at any time of day and with so many different flavours to choose from, croquettes are the best! We'll try some of Madrid's most famous croquettes together at a heritage tavern that was originally built in 1860 and only specializes in these special treats.  After that, we'll cross Puerta del Sol, one of the most iconic spots of Madrid and finish our tapas adventure with a local dessert and sweet wine in yet another historic location. This join has been run by the same family for over 100 years, serving a traditional Spanish dessert that might just remind you of something familiar. Once you've finished your dessert, your guide will take you back to Puerta del Sol, where they can help you out with directions back to your accommodation or ideas on where to go next!