Bangkok Chinatown Sights and Bites Experience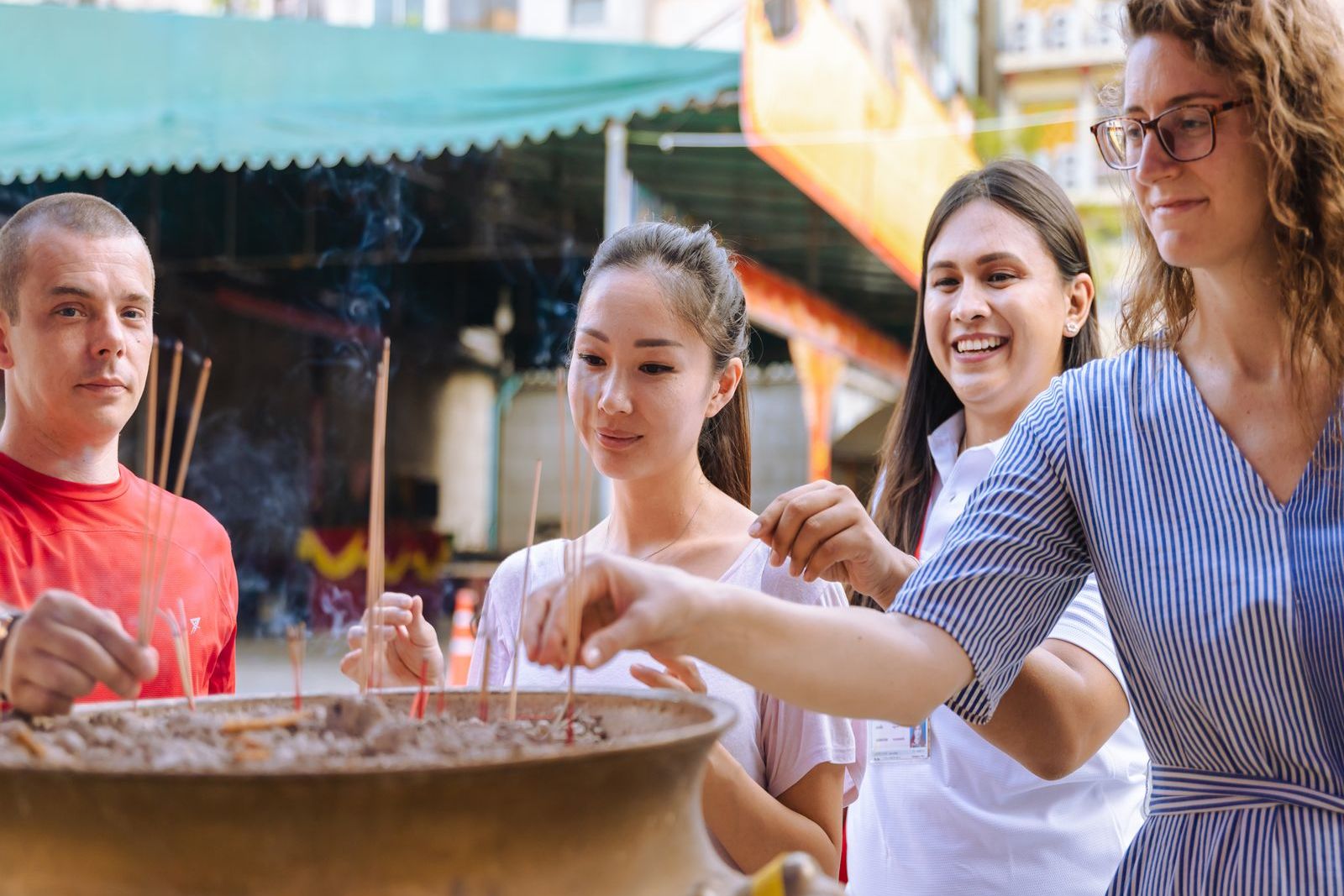 TOUR DESCRIPTION
Join this Bangkok walking tour to explore and snack your way through one of the old city's most authentic and vibrant spots: Chinatown. Be blown away by the blend of Thai-Chinese food, history, and culture in what is known to be the largest Chinatown in the world. We'll walk down hidden lanes, step into the most important temples, and make our way through bustling markets while tasting food the way the locals do – from street carts, old-time cafes and market stalls.
Highlights


Sample some street-side cuisine at the birthplace of the famous Thai street-food scene - Bangkok's iconic Chinatown


Let your jaw hit the floor when you see the Golden Buddha at Wat Traimit Temple


See shops that sell nothing but religious paraphernalia hidden in narrow lanes and be blown away by the bustling market scene


Discover Bangkok's Chinese history at the Yaowarat Chinatown Heritage Centre


Relax with a cold Thai local beer while taking in the incredible 360-degree view of the city from one of Bangkok's best kept secret sky bars


Local English-speaking guide
Wat traimit, Golden Buddha temple entrance fee
Street snacks
Traditional Thai coffee or tea
Thai local beer
Drop off transfer
Tips/gratuities for your guide
Important Information
What is included in the tour?
Local English-speaking guide, Wat traimit, Golden Buddha temple entrance fee, street snacks, traditional Thai coffee or tea, Thai local beer or soft drink at the last stop
What isn't included in the tour?
Drop off transfer, tips/gratuities for your guide
Where do we meet?
Bangkok Hua Lamphong Railway Station. Our guide will be waiting in the main departure hall in front of the ticket counters. If you're coming by MRT (subway) please take Exit (Address in Thai for taxis: สถานีรถไฟหัวลำโพง)
Where does the tour end?
Grand China Hotel Bangkok, 215 Yaowarat Road
What is the duration of the tour?
What is the group size for this tour?
For shared tours, the maximum group number will be 12 passengers. For private tours, there must be a minimum of 2 passengers. A solo traveller may still book a private experience, but they will be charged a base rate for two travellers.
Are there any Covid-19 vaccination requirements?
While we strongly recommend that all travellers are vaccinated against COVID-19 to reduce the risk of transmission and avoid putting undue strain on healthcare services, vaccinations are not a requirement to join an Intrepid Urban Adventures tour. For further information, please review COVID-19 Health & Safety at https://www.urbanadventures.com/en/about-us/covid-19-customer-info
What if I can't find my guide?
If you have any issues on the day of your tour, please call +66 81 842 3554
Can I cancel my tour?
Free cancellation up to 24 hours before activity.
MORE INFORMATION
Local Impact: How you will help the local community by joining this tour:
This tour helps preserve local cultural heritage by visiting sites of cultural importance including Wat Traimit Temple and Yaowarat Chinatown Heritage Centre which is rarely visited by tourists. Although there is no entrance fee at Wat Mangkon, Urban Adventures makes a small donation per group which goes toward helping maintain the site.
You will also visit a 90-year-old coffee shop on this tour, supporting a 4th generation family business who continue to serve traditional Thai teas, coffees, and snacks that they built their heritage on.
This walking tour will take you through Bangkok's historic Chinatown, a neighbourhood so rich in sights, sounds, and smells that it could only really be described as an assault on the senses (in a good way!). Taking a stroll through this neighbourhood is one of the best things to do in Bangkok, and with a local to guide you along, you'll never miss a beat. You'll begin this Bangkok Chinatown tour at Bangkok Hua Lamphong Railway Station, it doesn't get any more old-school than this – the station is more than a hundred years old and one of Bangkok's architectural gems. There's plenty of action inside with locals coming and going, but catch it while you can. There are plans to close the station and replace it with a modern terminal in the next few years. Our first stop is Wat Traimit, the Golden Buddha Temple - an incredible sight to behold and one of the can't miss things to do in Bangkok. This stunning temple enshrines the world's largest solid gold seated Buddha from the Sukhothai Era, measuring nearly five metres high and weighing five and a half tonnes. Here your guide will let you in on the local secrets and history behind the Buddha, and the legendary tales that surround the original Buddha that sat there. This temple also houses the Yaowarat Chinese Heritage Centre where you'll learn all about the history of the Chinese people in Thailand and the fascinating relationship between these two countries.   Next, you'll get into everything you've been waiting for – bring on the food! With your local guide, you'll head to a 100-year-old coffee shop on Phat Sai Road, where you'll be treated to a traditional Thai coffee, snack, and the opportunity to sit back and soak up the atmosphere. We'll then head to a market specialising in Chinese religious products and fresh food. At night, this particular area is filled with street stalls and becomes one giant and extremely tasty food bazaar. This will be your opportunity to go wild and try dishes you've never even heard of. But trust us, after this experience you'll never forget them! With a belly full of Bangkok treats, we'll head to our final stop, a hidden gem of a sky bar with 360-degree panoramic views to rival all others in the city. You'll have a chance to relax and refresh with a cold Thai local beer (soft drinks also available) while taking in the breathtaking scene. Your guide will point out Bangkok's significant sights, from the modern malls and skyscrapers, to the historic highlights such as The Grand Palace, Wat Arun, and the Golden Mount. The tour will finish here where you're free to stay for more drinks and food or continue exploring. Your local guide will also be happy to assist you in finding your way back to your accommodation. This Bangkok Chinatown Sights and Bites tour is not only an opportunity to sample all the delicious delights that Chinatown has to offer, although we must admit that is a serious pro! It's all that food, plus history, culture, and local life. We couldn't pack any more into this tour if we tried!